Product description: BleBox GateBoxPro - WiFi gateway driver - Android / iOS application.
GateBoxProis an extended version of the ready-made controller for GateBox doors.The Pro version is distinguished by itsincreased range andincreased class of waterproofness.The controller has been designed to openand close the gates,as well as check their status with mobile devices. GateBoxPro allows you to control the gatefrom anywhere in the worldwithout the need to purchase additional devices or hidden charges. The device should be configured via a web browser or using the dedicated wBox application.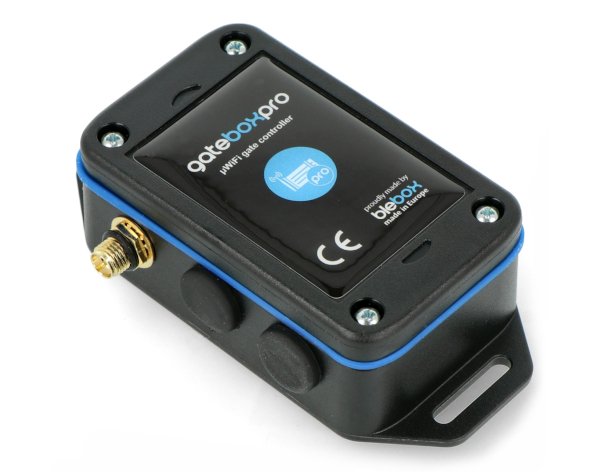 Gateway controller - BleBox GateBoxPro, also includes a dedicated antenna.
The device has a higher waterproofness class IP54, which allows it to be mounted outside buildings or on fence posts. GateBoxPro can control any gate, both entrance and garage gate, which has a control input to connect a button or intercom.
Larger range
The controller is equipped with RP-SMA antenna connector, to which the antenna is connected.The set includes an antenna with 5 dB gain. Using an extension cable (not included in the set), it can be placed anywhere.

The 5 dB antenna is included in the set.
BleBox GateBoxPro driver communication
The GateBoxPro communication controller uses μWiF technologytoconnect to the wBox applicationor tocontrol via a web browser. The module can also be paired with BleBoxμRemoteremote controlsandwireless inBox buttons, without using WiFi. In addition, the module is equipped with signal lights, which allow easy installation and configuration of the device.
GateBoxPro controller configuration
In order to configure the device you need to connect to the wireless network of the device named "gateBoxPro-xxxxxxxxxx" where"xxxxxxxx" is the serial number of the device,then using the AndroidPlaystoreor AppStoreyou need todownloadthe wBox - control everything application. Afterstarting the applicationyou will see the device on the top of the screen, next to the name there will be a "+" sign. In order to pre-configure the device, click on the default device name.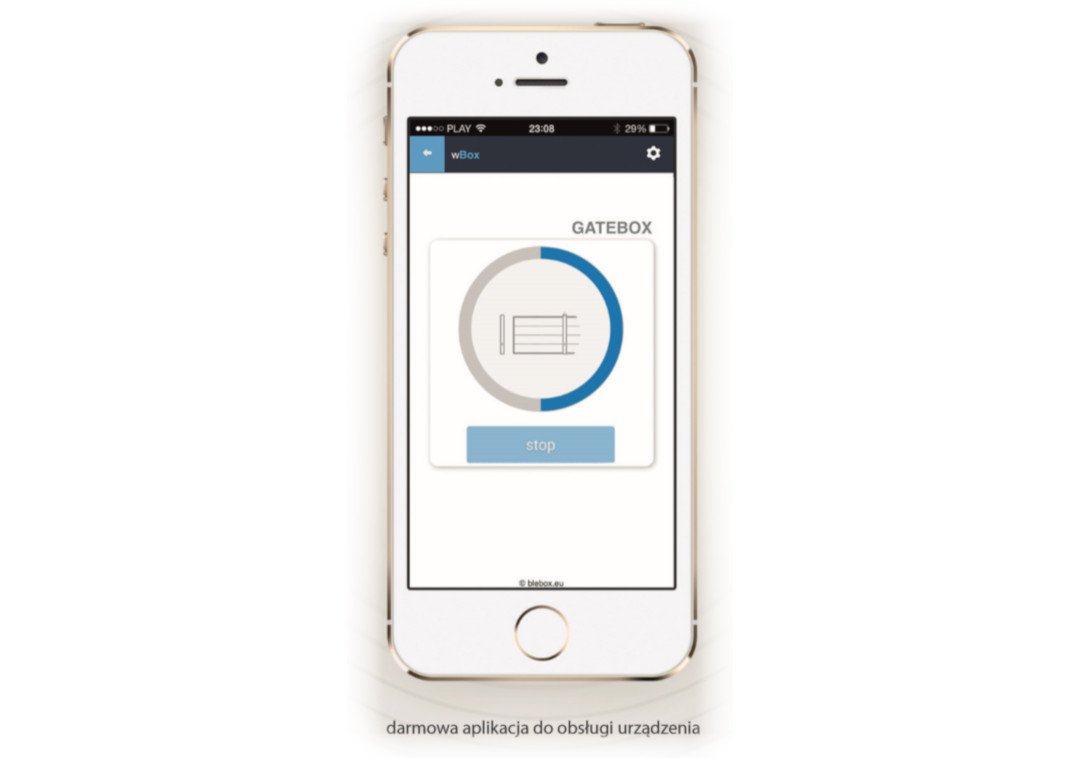 The configuration can also be done via the website. To do so, connect to the device's wireless network, then just start a web browser and enter the IP address of the device:http://192.168.4.1A configuration page will appear, where you need to select your home WiFi network and enter the access password.
Diagrams of connecting the controller to GateBoxPro gates.
Specification of the gateway controller BleBox GateBoxPro
Specification
Supply voltage
12 V to 24 V AC / DC
Power consumption
Up to 1 W
Average current consumption
50 mA
Maximum current consumption
250 mA
Number of outputs
2
Type of outputs
Open collector, impulse
Maximum load on the outputs
20 mA
Galvanic separation of inputs / outputs
Yes
Number of entrances
2
Type of inputs
Logical
Polarization of inputs
Automatically detected
Aerial output
Yes
Antenna output type
RP-SMA
Antenna

Included

5 dB gain

Frequency of transmission
2.4 GHz
Communication standard

µWiFi, WiFi compatible

802.11 g

API
Open
Type of transmission
Bi-directional, encrypted
Encryption
WPA2-PSK and authenticated encryption (AEAD)
Mode of operation

Direct connection (Access Point),

WiFi connection through a router,

connection from anywhere in the world (only internet access required)

Compatible devices and systems

Apple iPhone, Apple iPad, iPad Mini, Android,

computers and mobile devices supporting HTML5

Case

Plastic, flooded with halogen-free polyurethane composition

self-extinguishing thermal class B (130°C)

Degree of protection
IP54
Installation

Two 18 x 3 mm mounting holes or self-adhesive element (tape)

Dimensions

92 x 50 x 28 mm (without antenna)

230 x 85 x 28 (with the antenna vertically positioned)

Antenna length
197 mm
The set includes
Door control unit BleBox GateBoxPro
Antenna