Product description: Weather station with wind direction and speed measurement
A set of elements allowing you to construct your ownweatherstation for home use. It consists of awind speed and directionsensor and aprecipitationsensor. In addition, the set includes the necessary mounting materials, cable ties and RJ11 cables.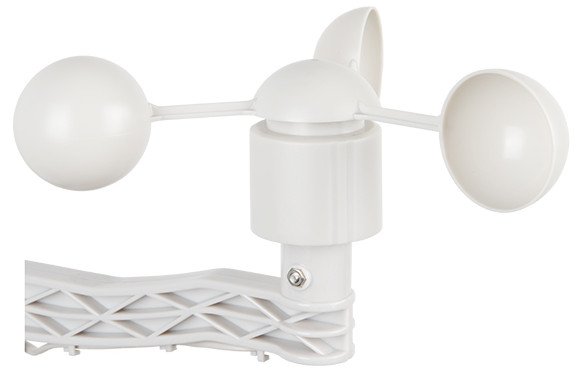 Weather station with wind direction and speed measurement.
Operation of the weather station is based on a system ofmagnetic sensors.The device does not use any active electronics. However, for making and reading the measurements it is necessary toprovide an external power source.Detailed information can be found in theinstallationmanual.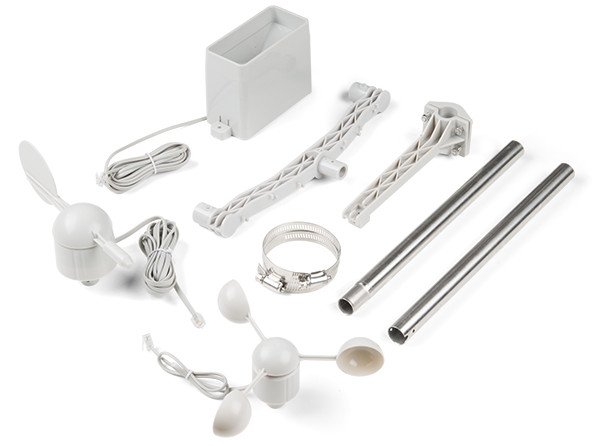 The product is delivered as a kit for self-assembly.
Characteristics of individual elements of the meteorological station
A rain sensoris a self-emptying

bucket

that collects rainwater. The precisely determined amount of collected rainfall, i.e. 0.2794mm, activates the switch, whichleads to closing the circuit. The pulses generated in this way can be counted by any microcontroller equipped with a digital input.
Anemometer, a wind speed meter, using a magnetic switch to measure the short-circuiting of the electrical circuit.Each 2,4 km/hwind speed generates1 pulse per second(1 Hz).
The wind directionis indicated by an analogue voltage, generated by a combination of resistors inside the sensor. This solution allows16 directionsto be indicated.
The wind direction measurement circuit requires the use of an additional resistor with a manufacturer's suggested value of 10 kΩ.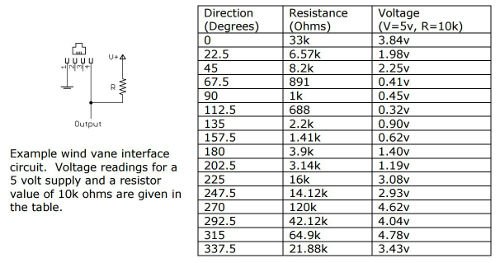 Wiring diagram and examples of wind direction sensor readings.
Contents of the weather station set
Wind direction sensor
Wind speed sensor
Precipitation sensor
Two-piece mounting mast
Rain gauge mounting arm
Wind meter mounting strap
Clips
RJ11 cables