Product description: ReSpeaker Mic Array v2.0
ReSpeaker Mic Array v2.0 by Seeed is another more extended version of ReSpeaker Mic Array v1. Based on the XVF-3000 chip. A board with a built-in long-range microphone, capable of detecting voices at a distance of 5 m, even in the presence of background noise.
With the ReSpeaker Mic Array v2.0 panel, you can extend your project with a voice interface. It is compatible with Linux, macOS and Windows systems. Array V2.0 has built in similar audio processing algorithms as its predecessor, but with far better code quality.
TheAEC (Acoustic Echo Cancellation)algorithm is a full-duplex solution, which means that the device can playback audio while simultaneously listening to its surroundings. The number of microphones has been reduced from seven to four. Reducing the number of microphones allows for lower board costs. Thanks to the updated algorithms, the final quality of the voice processing has not decreased, but has improved. The new chipset allows for circular or linear electronic design, as well as the ability to change the spacing of the microphones.
Key features of the ReSpeaker Mic Array v2.0 panel
Voice capture in the far field
Set of four microphones
12 programmable RGB LED indicators
Voice activity detection
Direction of sound
Noise suppression
Reverberation suppression
Acoustic echo cancellation
Supports USB Audio Class 1.0 (UAC 1.0)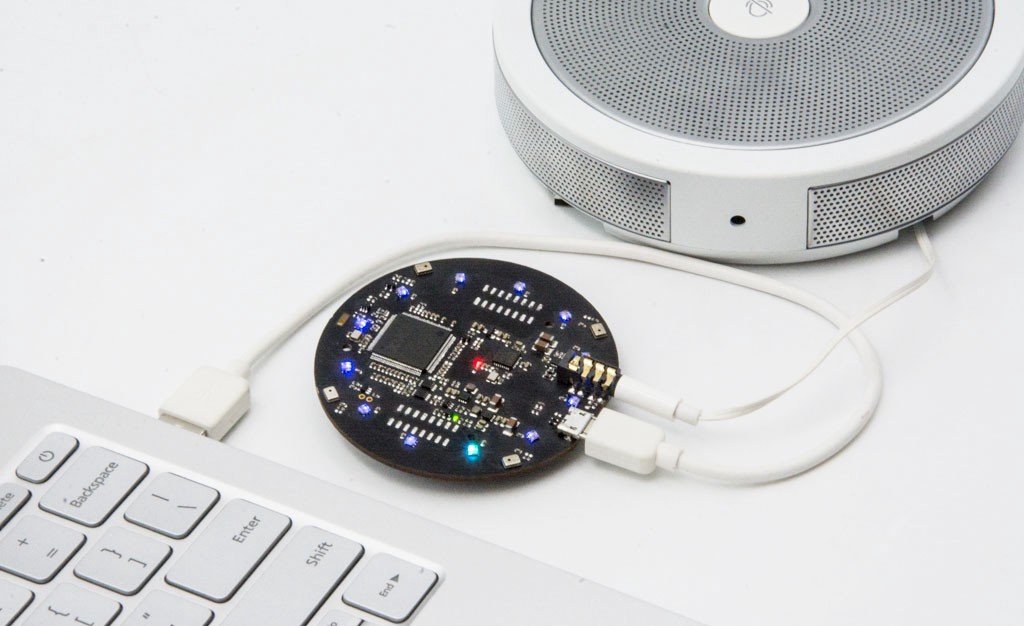 ReSpeaker Mic Array v2.0 audio control panel
A small size ReSpeaker board - designed by a well-known company SeeedStudio - is a real treat for enthusiasts of high quality sounds and programmable electronics. This is the latest version of the well-known board, which was previously known as Mic Array v.1.0.
The improved version is based on the XMOS XVF-3000 architecture. The powerful and functional chipset contains many new features, which were previously unavailable, such as the speech recognition option.
ReSpeaker Mic Array v2.0 - the latest version of the audio control panel
ReSpeaker Mic Array v.2.0 - the audio control panel for programmable electronics modules and PCs - is a board fully compatible with all the latest Linux, Windows and macOS operating systems.
The board directly supports USB Audio Class. You can install it as an external sound card or separate audio modulator. It works perfectly in cooperation with applications using voice algorithms.
Technical specification of the ReSpeaker Mic Array v2.0 controller
Parameter
Range
XMOS
XVF-3000
Microphones
4 high performance digital microphones
Far-field Voice Capture" support
Yes
Speech algorithm
Yes on chip
RGB LEDs
Yes, 12 programmable RGB LEDs
Microphones
ST MP34DT01TR-M
Sensitivity
-26 dBFS (omnidirectional)
Acoustic overload point
120 dBSPL
SNR
61 dB
Power supply
5 V DC or Micro USB ReSpeaker
Dimensions
70 mm (diameter)
Audio output socket
yes, 3.5 mm jack
Power consumption
5V, 180 mA with LED
Maximum sampling frequency

48 Khz