Product description: Fingerprint reader - with STM32F205 32-bit
Fingerprint reader module equipped with a 32-bit STM32F205 microcontroller, communicating via simple commands sent via UART (RX, TX) serial interface. The sensor has a memory that allows you to save up to 1000 fingerprints and transfer data in the form of photos or a database of patterns to a computer via a USB-UART adapter, microcontroller or otherreader.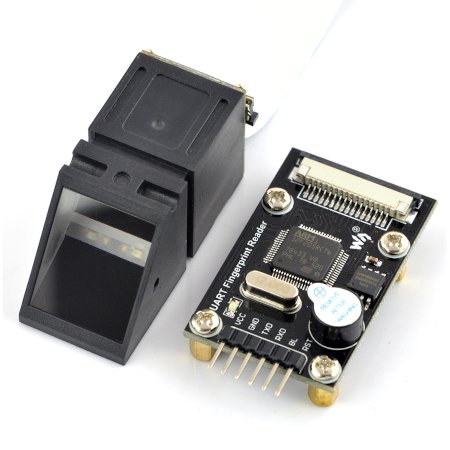 The module cooperates with microcontrollers equipped with serial interface (RX, TX lines), including Arduino and Raspberry Pimini computer.
Queries .
The system has six leads:
| Pin | Description |
| --- | --- |
| VCC | Supply voltage from 3.3 V to 7.5 V. |
| GND | The weight of the system. |
| TX | UART serial interface - transmitter. |
| RX | UART serial interface - receiver. |
| BL | Backlight control, usually unconnected. |
| RST | Reset the system. |
Specification
Microprocessor: STM32F205
Supply voltage: 3.3V to 7.5V
HD optical sensor
Memory capacity: 1000 prints
Operating current: up to 50 mA
Entry and adjustment time: less than 0.5 s
Matching modes: 1:1, 1:N
Output formats:
10 safety levels
Communication interface: UART
Operating temperature: -20 °C to 60 °C
Included 6-pin cable with female connectors
Module dimensions: 45.72 x 28.19 mm