Description
The laser sensor of dust for the control of air purity. Allows to detect particles with diameter more than 0.3 μm, designed to measure PM2.5 and PM10. It has a fan that sucks the air. The system is supplied with the voltage from 4.7 V to 5.3 V, communication via the UART or PWM signal.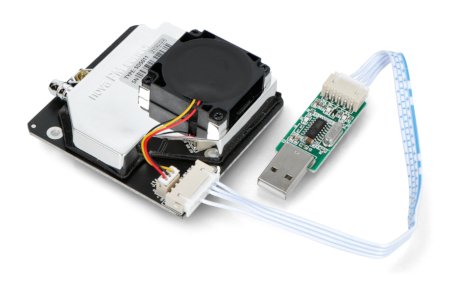 Check how to connect the sensor with:
Connection
The sensor has seven leads, their description is in a table. In the case of connecting the sensor toArduinoor to other devices running with 5 Volts, you must usea voltage converter.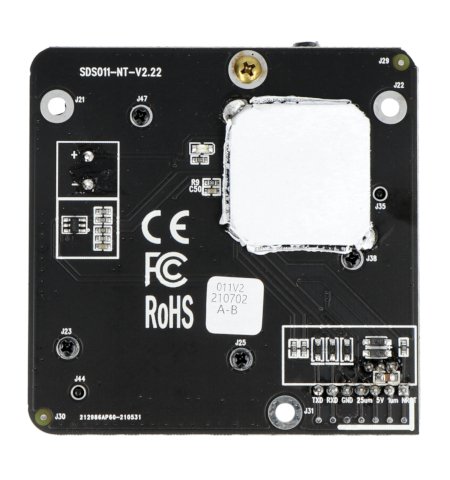 | Pin | Description |
| --- | --- |
| NRT | Not connected. |
| 1µm | PWM output. Check the documentation for details. |
| 5V | Supply voltage: 4.7 V to 5.3 V. |
| 2.5 µm | PWM output. Check the documentation for details. |
| GND | The mass of the system. |
| RXD | Receiver of the UART interface (3.3 V) |
| TXD | The transmitter of the UART interface (3.3 V) |
Specification
Supply voltage: 4.7 V to 5.3 V
Current consumption: 70 mA
Sensitivity: 0.3 microns
Measuring range: from 0 µg/m³ to 999.9 µg/m³
Communication: UART signal / PWM
7-pin connector: pitch 2.54 mm
Working temperature: from -10°C to 50°C
Atmospheric pressure: from 86 kPa to 110 kPa
Tile sizes: 71 x 70 x 23 mm