Description
Pololu programmer compatible with with the popular STK500. It can be used to program AVR microcontrollers via the microUSB cable (not included). Version 2 is equipped with two connectors KANDA 2x3 pin and the female goldpin 6-pin strip. Works with voltages of 5 V and 3.3 V.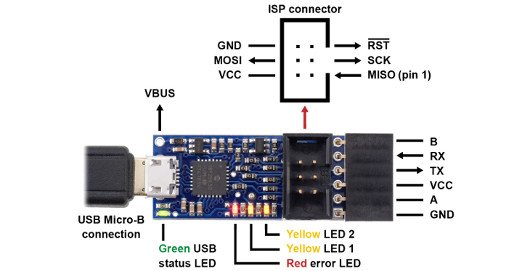 The distribution of elements on the programmer.
Key features
The programmer connects to the computer via microUSB (cable microUSB is not included, it can be purchased separately)
The device is compatible with the popular STK500 programmer, in system visible as a virtual COM port
There are drivers for Windows operating systems, MAC OS and Linux
Supports popular development environments AVT, including: Atmel Studio, AVRDUDE and Arduino IDE
Works with a voltage of 3.3 V and 5 V is required a value is selected in automatic mode
Has a built in converter USB to TTL (RX, TX) and "output") of 100 kHz
Pins I/O provided resistors 470
The device has two types of connectors:

kanda 6 pin
strap goldpin raster 2.54 mm, 6 pin

The manufacturer provides a comprehensive user manual
Supported microcontrollers
Programmer supports MCU AVR with ISP interface (in-system programming), which is called programming in the target system (ICSP). These include models of the ATmega and ATtiny series. The device does not work with an interface TPI (Tiny Programming) and microcontrollers from series XMega 32-bit.
The differences between versions v2 and v2.1
Additional DC output v2 is not designed to work with płykami larger capacity than a few microfarads. In version 2.1 it is fixed and the programmer can power up the boards 

to

33 

µF.

The programmer v2, as a principle, would cause a surge, if the RST contact was applied to the signal in 5 when it worked with a voltage of 3.3 V. Version 2.1 does not have this problem.
Connecting the programmer to the 3pi robot could activate the full power of one engine due to a circuit to measure DC current. In the new version of programmer the scheme was improved duty cycle, this effect is about 0.2%, the engine will not start, but can produce audible clicks
Included
Programmer compatible with STK500
Tape cable with connector 2x3 pin