Description
25 Wpower supply designed tosupply lighting based on LED technology, e.g. tapes, lights, panels, RGB controllers and the other devices from8.5 V to 14 V. The voltage can be adjusted using a potentiometer. The maximum current efficiency is2 A, which for example allows you to power a 5 m LED strip with a consumption of 4.8 W / m. In addition to supplying LED lighting, the power supply can be successfully used for industrial automation systems, machine control, etc.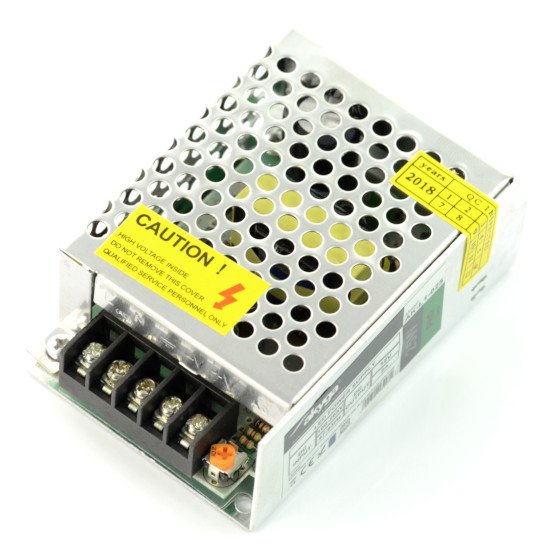 The correct power supply for LED strip is selected by multiplying the length of the string, expressed in meters, with the power of the strip. To achieve reliable operation it is better to choose a power supply with a stock of at least 10% of the capacity.
Specification
Supply voltage: 100 V AC to 265 V AC
Efficiency: 80 %
Output current: 2 A
Maximum power: 25 W
Voltage regulation: from 8.5 to 14 Volts
Output connector: Screw
Delay time: 50 MS
The start time and rise time: 1000ms, 30ms
Mechanical timer: No
Protection class: IP20
Protection: OVP, OCP, OPP, OTP, SCP
Power connector: Screw
The ferrite filter: Yes
Operating temperature: 5 °to 50 ° C
Storage temperature: -40 to +80 °C
Compatibility: CET, RoHS, REACH
Dimensions: 84 x 59 x 33 mm
Weight: 120 g
More information inthe datasheet.