Specification
Supply voltage: -0.3 V to 6 V
Average current: 5 mA
Output voltage: -0.3 V to 6 V
Working frequency: 56 kHz
Details inthe documentation.
Connection
The following figure shows the diagram of connecting the sensor, taken from the documentation. The manufacturer requires the current limitation using the resistor of 100 Ohms and using a filtering condenser between the legs of the power supply with a capacity of 4.7uF.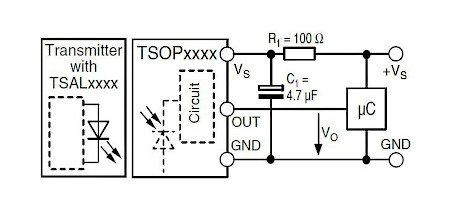 Connection diagram of the IR receiver TSOP32156.