Product Description: BNO085 9-DOF IMU Fusion Breakout - 3-Axis Accelerometer, Gyroscope and Magnetometer - Adafruit 4754
Adafruit 's sensor based on the BNO085 chip combines an accelerometer , magnetometer and gyroscope . Allows you to measure acceleration, spatial orientation, and where the strongest magnetic force comes from, typically used to detect magnetic north. The module was equipped with an Arm Cortex M0 processor with CEVA SH-2 firmware. The STEMMA QT / Qwiic connector on the board makes prototyping much easier. The sensor can be powered by 3 V or 5 V.
Pinouts of the Adafruit 4754 module
VIN : Power pin (the board has a built-in voltage regulator, it should be powered with the same voltage as the logic level of the microcontroller used)
3Vo : 3.3 V output from voltage regulator (loadable up to 100 mA)
GND : Ground (common for power and logic)
SCL : Clock line of the I2C bus
SDA : I2C bus data line
STEMMA QT : Connectors to connect the sensor to development boards with STEMMA QT connectors
DI : I2C address pin
INT : Interrupt pin
CS : Pin Chip Select
RST : Reset
Pins P0/P1 and solder jumpers : BNO085 operating mode selection
Main features of the module
Low power consumption
High measurement accuracy
Small size
Measurement:

acceleration (gravitational and linear)
spatial orientation
magnetic force
stability
knocks, footsteps and jolts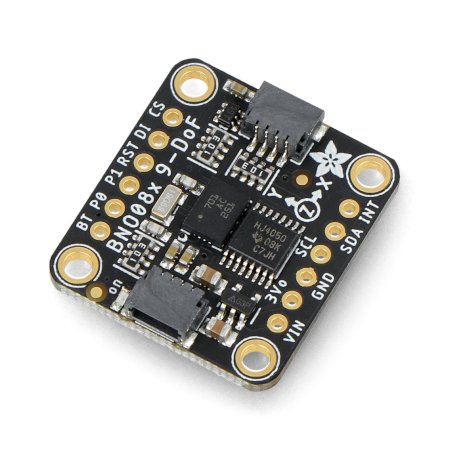 The sensor is equipped with an accelerometer, magnetometer and gyroscope.
Module technical specification
Manufacturer: Adafruit
Manufacturer's designation: 4754
Supply voltage: 3 V or 5 V
Communication: I2C
Sensors: accelerometer, magnetometer, gyroscope
Arm Cortex M0 processor with CEVA SH-2 firmware
Dimensions: 25.6 x 22.7 x 4.6mm
Weight: 2.5g
Kit contents
BNO085 9-DOF IMU Fusion Breakout module
goldpin strip