Description
Module with silicon microphone, MEMS type, which does not require amplifier. It detects sound with frequency from 100 Hz to 10 kHz and converts it into an analog output signal that can be read using the A/D converter, for example the built-in Arduino. The device operates with a voltage from 3.3 V to 5 V.
Specification
Supply voltage: from 3.3 V to 5 V (3.3 V is recommended to improve the sound quality)
BIAS voltage (silence): 0,67 V
Vpp voltage: 1 V max.
Frequency range: 100 Hz to 10 000 Hz
Pins: goldpin connectors of 2.54 mm, for self-soldering (included)
Module dimensions : 16 x 14 x 3 mm
Weight: 1 g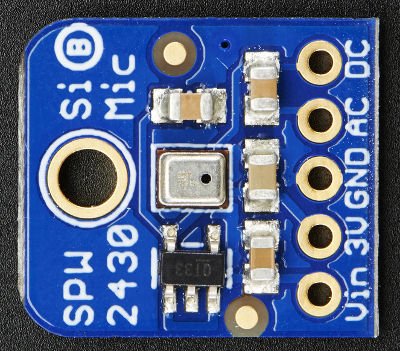 Connection method
Power supply should be connected between the VCC pins (from 3.3 V to 5.5 V) and GND (ground). DC is the output of the analog constant signal (waveform audio), AC is the output of the signal interchangeable with built-in condenser of 10 UF. Selected output should be connected to the input pins of the analog-to-digital converter (e.g. analog inputsof the Arduino), usingwiresor using breadboard. Pins are the solder fields, for soldering the goldpin connectors, 2.54 mm pitch, in the kit for self-soldering.