Product description: Rodent repeller - strobe and ultrasonic - with power supply - Viano OD-15
Viano rodent repeller, marten and rat repeller. It uses two technologies: ultrasound and strobe , thanks to which it effectively repels rodents such as martens, weasels, rats and mice. The device emits ultrasound, which creates an unpleasant, unbearable environment for rodents, thus preventing them from staying and settling in the vicinity of the protected space - in this model the effective deterrent area is 2500 m 2 . In addition, the strobe panel located in the front part of the repeller has a built-in radar, which, after detecting even the smallest movement, triggers a series of flashes - strong, blinding and scaring the pest.
The main features of the repeller - which are the best deterrents of pests
Universal, it repels the most troublesome and common rodents - weasels, martens, mice and rats
Equipped with two large piezoelectric speakers with a diameter of 50 mm increasing the power of the device
Energy-saving ultrasound generator with automatic frequency change module
Waterproof industrial housing with IP65 protection class makes the repeller can also be used outdoors - it is resistant to mechanical damage, sun rays, rain, frost and wind
The set with the repeller also includes a dedicated power supply
Simple assembly - the neodymium magnet in the back of the housing allows you to attach the repeller to any metal surface (gutters, fences, roof fittings or racks)
A strobe panel placed between the loudspeakers fires flashes when motion is detected, which blinds and scares away pests
The device does not interfere with the operation of radios and electronic devices
Note: The device does not work with dogs and cats
Technical specification of the repeller
Series: WaterStrob
Model: OD-15
Purpose: rodent repeller - marten, rats, mice, weasels
Technology: ultrasonic repeller, strobe repeller
Ultrasound emission angle: up to 120 degrees
Effective area: 2500 m 2
Ultrasound range: up to 200 meters
Number of strobe flashes: 5 flashes per second
Device tightness class: IP65 (for outdoor and indoor use)
Power supply: 5 V to 6 V DC (dedicated power adapter included)
Current consumption: 20 mA
Current consumption - flash: 5 mA
Device dimensions: 54.6 x 78.4 x 118.2 mm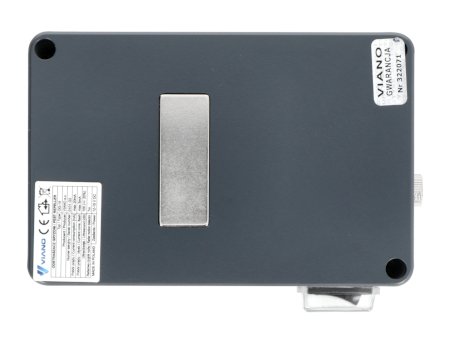 The back of the housing has a strong neodymium magnet that allows you to attach the device to any metal surface.