Product description: MCE32 PIR motion detector 220-240 V - ceiling mounted
PIR sensor allows you to detect movement. It is used to automatically control lighting or other devices. The sensor works on infrared. It is activated by the movement of a heat emitting object. The sensor is powered from 220 V to 240 V AC and can activate incandescent bulbs up to 800 W and LED and energy-saving ones up to 200 W.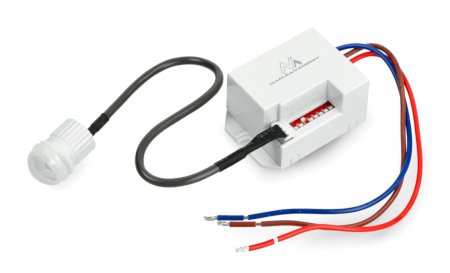 MCE32 PIR motion detector 220-240 V - ceiling built-in.
The sensor has a possibility of regulating the time of illumination after detection of an object with the use of switches. It can be set from 5 sec to 8 min. The operating range can also be set at 3 m or 6 m.
Connection
The sensor should be connected according to the following diagram. Switches allow setting the time and range of the sensor.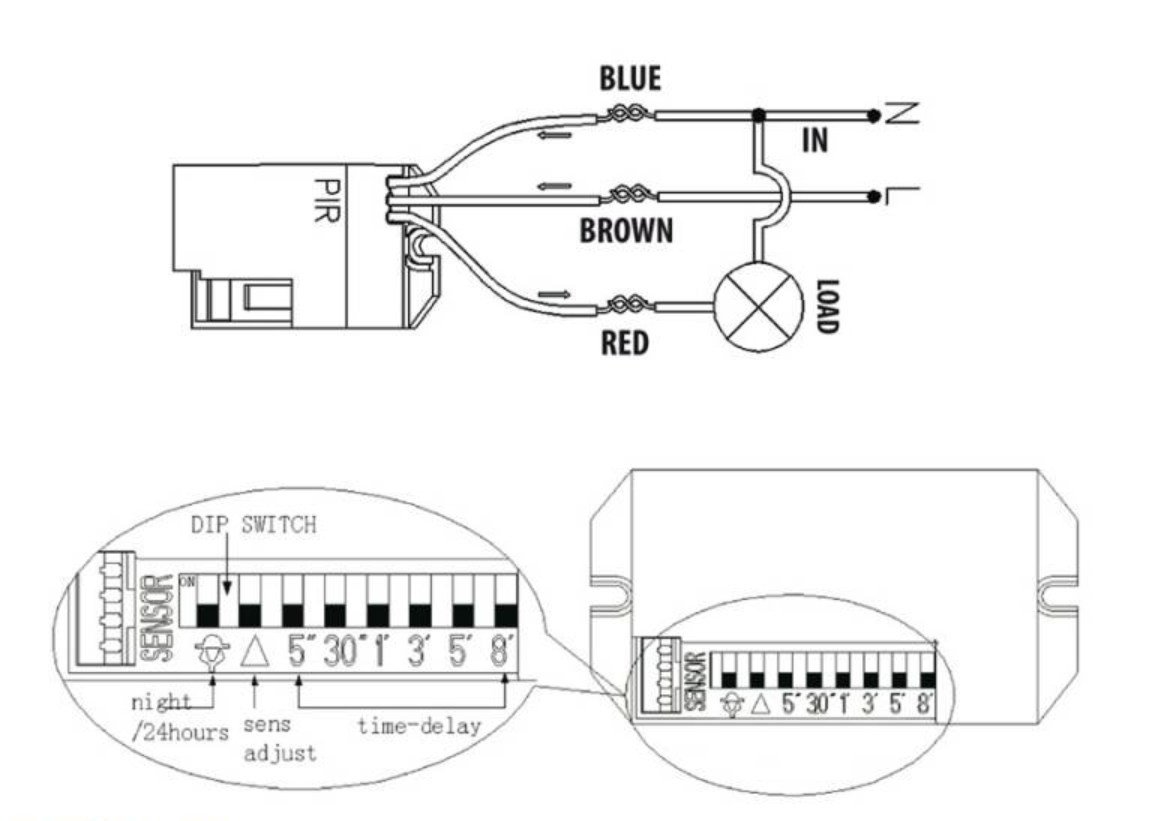 PIR motion detector specifications
Supply voltage: 220 V to 240 V
Viewing angle

Wall installation: 120°
Ceiling installation: 360°

Range: 3 m to 6 m at 24° (selectable)
Sensor identifies day and night

SUN mode: works both day and night
MOON mode: works only with lighting below 10 lux

Adjustable light sensitivity range: from 10 lux to 2000 lux
Operating temperature: from -20°C to 40°C
Adjustable lighting time:

5 s
30 s
1 min
3 min
5 min
8 min

Current consumption: approx. 0.5 W
Maximum power of the sensor:

Incandescent bulbs: 800 W
Energy-saving and LED bulbs: 200 W

Mounting height:

Wall mounting: from 1.8 m to 2.5 m
Ceiling mounting: from 2.2 m to 4 m

Degree of protection: IP20
Sensor dimensions: 15 x 25 mm
Control unit dimensions: 55 x 37 x 26 mm
Omnidirectional motion detector with relay
Switch module controlled by a PIR motion detector. The set consists of an omnidirectional sensor mounted on a short cable and a control module with an output that allows direct switching of a load (e.g. a motion-activated lamp).
The MCE32 220-240V PIR motion detector for ceiling installation offers a detection range of 3 to 6 meters. It can operate in SUN mode (activation independent of external lighting) or MOON mode (activation possible only with lighting below the threshold, set in the range from 10 to 2000 lux). Lighting time can be adjusted from 5 seconds to even 8 minutes.
Motion detector - installation diagram and selection
In case of the presented detector for lighting control, no additional relay is required - the device has a built-in driver with load up to 800 W (in case of a classic bulb) or 200 W (LED and energy-saving bulbs). The detector terminals should be connected to the mains power supply (blue and brown wires) and the controlled receiver should be connected between the neutral wire (brown) and the red output wire.
Depending on the specific application, a ceiling, corner, or wall motion detector may be selected for the installation. Ceiling detectors offer great flexibility during installation because their field of view is usually 360o - so they can respond to motion in almost any point in the room. Corner and wall detectors, on the other hand, allow better control of the monitored area, which is usually important, especially in alarm systems.
MCE32 infrared motion detector - the principle of operation
PIR type motion sensors are used wherever it is necessary to automate switching on and off electrical devices. An excellent example of such a sensor is the PIR MCE32. This sensor has a built-in generator of infrared beam, which is reflected back to the sensor from objects with a specific temperature higher than the ambient temperature. Detection by the sensor of an object with such a temperature causes the sensor to send a signal triggering, for example, switching on lights.
Maintenance-free lighting control with the PIR MCE32 sensor
MCE32 PIR motion detector enables maintenance-free timed control of switching on and off the lighting. Built-in DIP switches allow to set sensor parameters such as tripping threshold and time of lighting on after triggering. MCE32 PIR sensor is ideal for auxiliary control of outdoor lighting and exhaust ventilation in bathrooms.