Description: BME280 - I2C/SPI digital humidity, temperature and pressure sensor - SparkFun SEN-13676
Digital sensor allows to measure current atmospheric conditions: temperature from -40 °C to 85 °C, humidity from 0 to 100 %Rh and pressure from 300 hPa to 1100 hPa . The last value also allows for indirect height measurement up to 9,2 km with an average accuracy of 1 m. The sensor communicates via the I2C or SPI bus, the leads work with a voltage of 3.3 V, however the I2C lines tolerate a higher value up to 5 V. This allows the sensor to be operated directly from Arduino boards.
Connection of BME280 sensor
Board has 10 holes with 2,54 mm raster, which allow to solder goldpin connector strip (kit doesn't include connectors, you can buy them separately).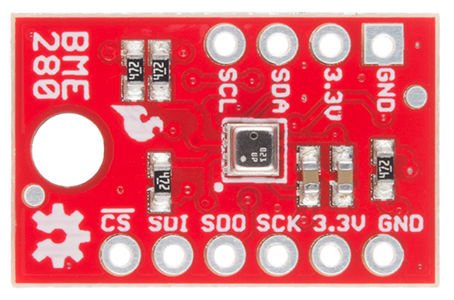 | Pin | Description |
| --- | --- |
| GND | System ground |
| 3.3V | Supply voltage from 1.8 V to 3.3 V. |
| SDA | I2C bus data line - tolerates 5 V. |
| SCL | I2C bus clock line - tolerates 5V. |
| | |
| GND | System ground. |
| 3.3V | Supply voltage from 1.8 V to 3.3 V. |
| SCK | SPI bus clock line - operates with voltage up to 3.3 V. |
| SDO | SPI bus data line - operates up to 3.3V. |
| SDI | SPI bus data line - operates with a voltage up to 3.3 V. |
| CS | Chip Select - SPI bus device selection, activated by a low state - operates with a voltage up to 3.3 V. |
Specification for humidity, temperature and pressure sensor BME280
Supply voltage: from 1.8 V to 3.3 V
Communication: I2C or SPI
I2C bus lines tolerate a voltage of 5 V
Humidity:

Measuring range: 0 %Rh to 100 %Rh
Accuracy: 3 % for the range from 20 %Rh to 80 %Rh

Temperature:

Measuring range: from - 40 °C to 85 °C
Accuracy: + / - 1 °C

Pressure:

Measuring range: from 30,000 Pa to 110,000 Pa
Accuracy: 100 Pa

Connectors: holes for soldering goldpin connectors, 2.54 mm pitch (not supplied, to be purchased separately)
Board dimensions: 20 x 13 mm