Product description: Raspberry Pi microcontroller - RP2040 - SC0914
TheRP2040 is the debut microcontroller of the Raspberry Pi Foundation. It was first used in the Raspberry Pi Pico module and in modules from other manufacturers, including Arduino, which unveiled its Arduino Nano RP2040 Connect module. It is a high-performance, dual-core chip based on ARM Cortex M0+ clocked at 133 MHz. It has a large amount of built-in SRAM, unique programmable I/O (PIO) and other popular communication interfaces. Detailed documentation, a fine-tuned MicroPython port and the UF2 bootloader located in ROM allow even novice users and hobbyists to get started with the microcontroller. The RP2040 has been developed on the state-of-the-art 40nm technology process, providing high performance, low power consumption, with multiple low-power modes that allow the chip to run on battery power for long periods of time. The microcontroller is housed in a QFN-56 enclosure.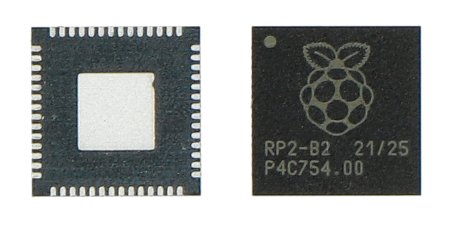 Raspberry Pi RP2040 microcontroller.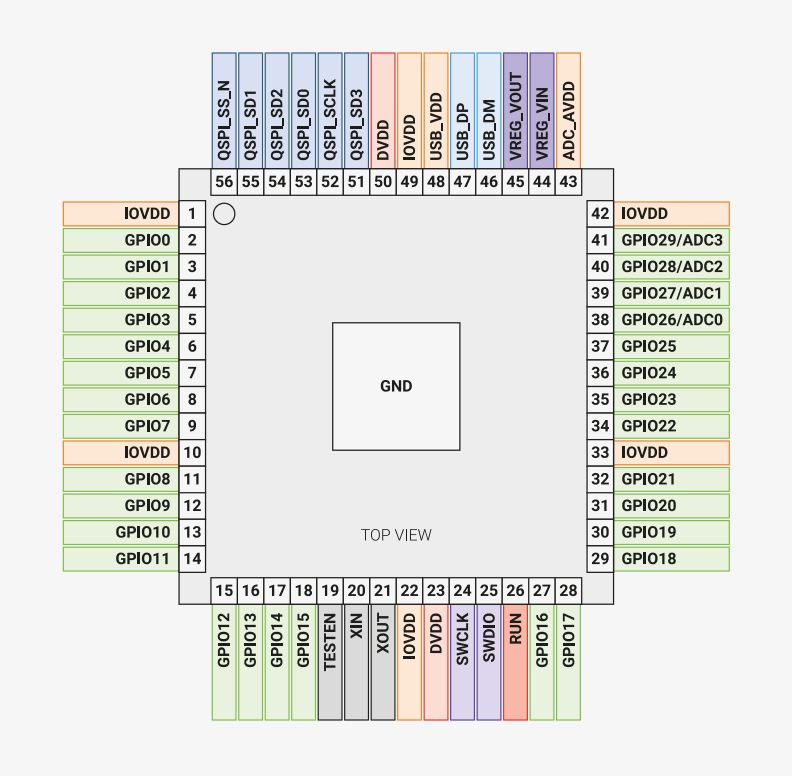 Pinout of RP2040 microcontroller.
Pinouts of the RP2040 microcontroller
The Raspberry Pi RP2040 microcontroller has 30 GPIO pins with popular communication interfaces such as:
2 x UART
2 x SPI
2 x I2C
16 x PWM
USB 1.1 and PHY controller
8 PIO
4 x analog inputs
With these interfaces, the RP2040 microcontroller can be used widely - from projects using machine learning to those that will control motors. The I/O interfaces operate at 3.3V.
RP2040 microcontroller specifications
Processor: dual-core ARM Cortex-M0+
Clock speed: 133 MHz
SRAM: 264 kB
Flash memory: optional up to 16 MB via dedicated QSPI bus
Operating voltage: 1.8 V / 3.3 V
Number of GPIOs: 30

2 x UART
4 x analog inputs
2 x SPI
2 x I2C
16 x PWM
1 x USB 1.1 and PHY
8 x PIO

ADC: 12-bit
Operating temperature: from -20°C to 85°C
Housing: QFN-56
Dimensions: 7.75 x 7.75 mm