Specification
Measurement range is from 2 to 15 cm
Supply voltage 4,5 V to 5,5 V
Average current consumption 12 mA
Refresh frequency: 60 Hz
Output: voltage-analog signal
Type of case: 27 x 13,2 x 14,2 mm
Weight: 2,7 g
Description
The sensor can detect objects at a distance of from 2 to 15 cm. The output is analog signal whose value depends on the distance between the detected object and the sensor. The closer the object is, the voltage at the output will be higher.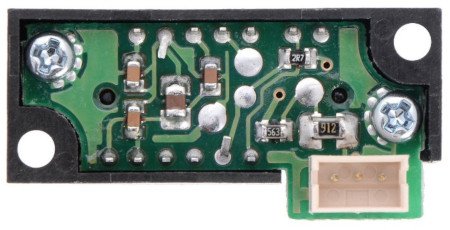 The product is compatible with Arduino
The sensor's output should be connected to any analog pin, the measurement is done using the function analogRead(sensorPin);. Example of the project with code can be found on the bildr website
Pins
The sensor has three pins ended with the slot, pitch of 1 mm (at the moment, we don't have a compatible plug). The wires can also be soldered directly to pads. Looking at the front of the sensor, from left to right:
power- Vcc (voltage from 4.5 to 5.5 V),
mass- GND
the analog output signal - Vo, the value of which depends on the distance between the sensor and the detected object.

Output voltage
The output is analog voltage signal depending on the distance at which the object is detected, in accordance with the diagram: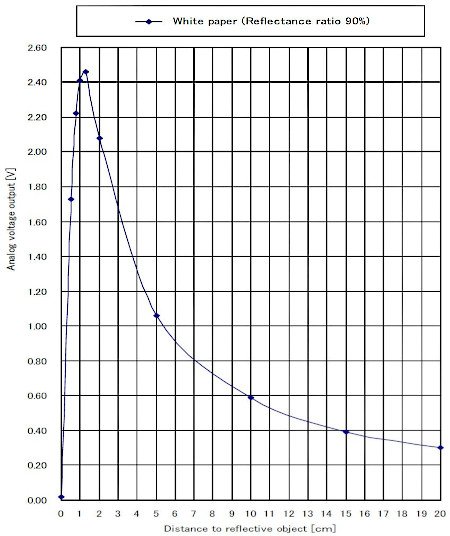 The other optical distance sensors
In our store available are versions of analog sensors that detect objects in the range of:4-30 cm,10-80 cm,20-150 cmand digital sensors that detect objects in the field of view of:5 cm,10 cmand40 cm.
Check out our distance sensors!
Accessories
In our offer, you will find alsoa special cablefor connecting the sensor with any device.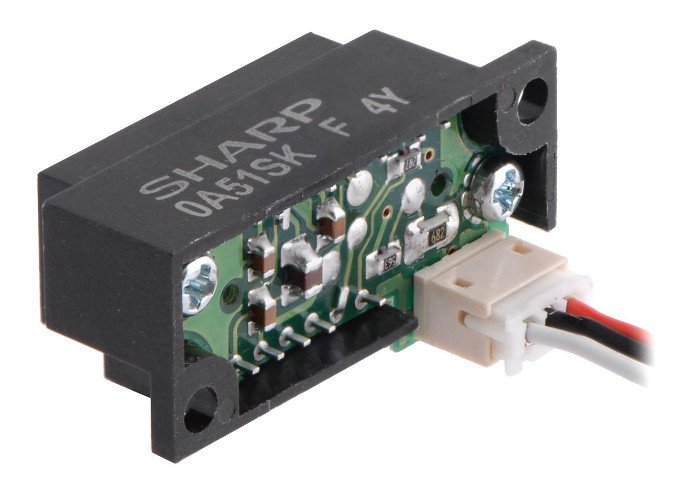 Cable in combination with a sensor. The subject of the sale is the sensor, the cable can be purchased separately.