Product description: MyoWare 2.0 Reference Cable - connection cable - SparkFun CAB-19244
Connection cable designed for the MyoWare 2.0 ecosystem. Connects an electrode to the MyoWare 2.0 muscle sensor reference pin. The pin of the cable should be connected to the sensor socket, while the snap-in connector should be connected to the biomedical measuring electrode . Once connected, the electrode should be applied to a separate part of the body, such as the bony part of the elbow or a muscle that is not in the area of the target muscle that the MyoWare 2.0 Muscle Sensor reference pin cannot reach.
Warning!
MyoWare 2.0 and Cable Shield are not intended to diagnose, cure, alleviate or prevent disease or other conditions in humans or other animals.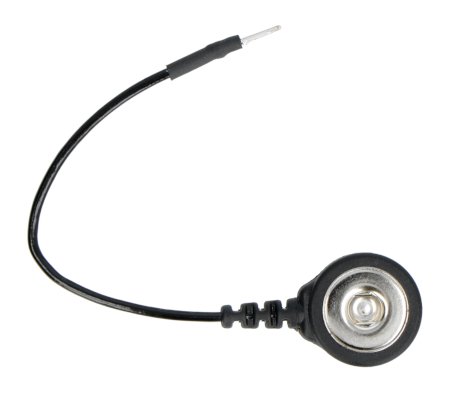 MyoWare 2.0 connection cable.
MyoWare 2.0 ecosystem
The MyoWare 2.0 ecosystem created by Advancer Technologies consists of overlays and sensors equipped with snap-on connectors that allow them to be easily connected with each other, which together with Arduino form a universal tool for studying muscle activity - electromyography (EMG). The innovative system of snap-on connectors allows easy connection of modules, and the analog 3.5 mm TRS jack connector is used to connect to the microcontroller by which the raw, filtered and rectified electrical activity of the target muscle is measured. This eliminates the need to solder the joints between the boards.
The manufacturer has prepared a detailed user guide for the MyoWare 2.0 ecosystem.
MyoWare 2.0 connection cable specification
Number of pin: 1
Connector: snap-on
Purpose: connection of the electrode to the MyoWare 2.0 sensor
‌