Description of product: MyoWare 2.0 Arduino Shield - Shield for Arduino - SparkFun DEV-18426
The MyoWare 2.0 shield for Arduino is equipped with six 3.5 mm TRS Jack connectors , to which you can connect MyoWare 2.0 sensors or the Link Shield using the TRS - TRS cable. The pins of the shield are compatible with the Arduino Uno R3 , so you can put it directly on the pins of the Arduino module. MyoWare 2.0 Arduino Shield uses all six analog inputs of Arduino (from A0 to A5). There is a jumper on the bottom of the MyoWare 2.0 overlay, with which you can select the output voltage of 5V or 3.3V for EMG muscle sensors, the default is 5V.
Warning!
MyoWare 2.0 and Cable Shield are not intended to diagnose, cure, alleviate or prevent disease or other conditions in humans or other animals.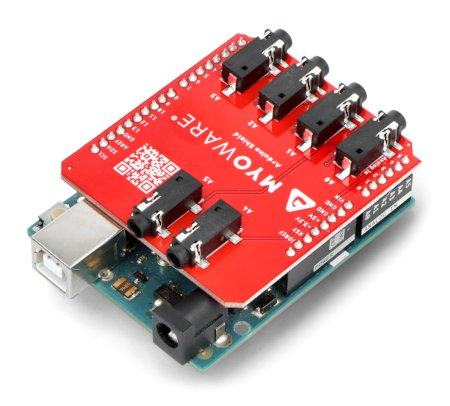 Shield MyoWare 2.0 for Arduino. The Arduino module is not part of the kit, it can be purchased separately in our store.
MyoWare 2.0 ecosystem
MyoWare 2.0 is an ecosystem consisting of overlays that can be easily connected with muscle sensors and Arduino. Together with MyoWare sensors and overlays from Advancer Technologies, you can create a ready device for measuring muscle activity - electromyography (EMG). The innovative system of snap-on connectors allows easy connection of modules, and the analog 3.5 mm TRS jack connector is used to connect to the microcontroller by which the raw, filtered and rectified electrical activity of the target muscle is measured. This eliminates the need to solder the joints between the boards.
The manufacturer has prepared a detailed user guide for the MyoWare 2.0 ecosystem.
Specification of the MyoWare 2.0 shield for Arduino
Connectors: 6x TRS Jack 3.5 mm
Soldered male goldpin pin connectors
Standard pins of the Arduino Uno R3
3.3 V / 5 V output voltage jumper
Tile sizes: 53.34 x 59.69 mm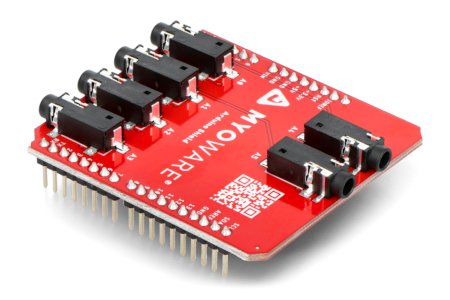 MyoWare 2.0 Shield for Arduino.
‌