Product description: Tuya M1 - ZigBee PIR motion detector
IntelligentMotion Detector (PIR)communicates withZigBeenetworkversion 3and 812.15.4. It can detect people and larger animals within a range of7 metersand has a viewing angle of120°. The sensor is powered bythree AAA batteries(included). There is a3Madhesive layer on the bottom of the unit for mounting. A connection to theZigBee gatewayis required for proper operation.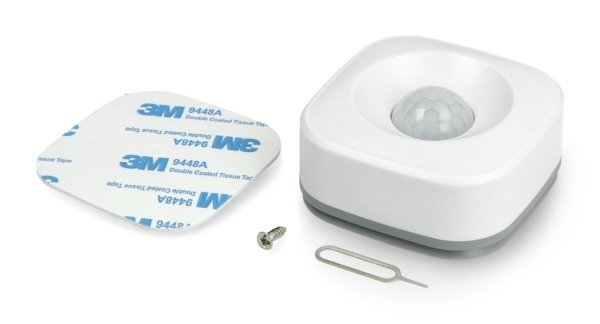 The contents of the PIR M1 motion sensor kit.
Main features of the M1 motion detector
Allows the detection of movement and movement of people and larger animals
He works in the passive infrared PIR range
The detection range is 7 m
The angle of motion detection is 120°
Easy installation and convenient adjustment
Can be placed on furniture, mounted on the wall or hung from the ceiling
Compatible with other ZigBee devices
Note
For proper operation the device requires a connection tothe Zigbee gateway, which can be purchased separately.
PIR M2 motion detector specification
ZigBee protocol: version 3.0 according to standard 802.15.4
Antenna type: built-in
Status indicator: LED
Power supply: 3 x AAA battery
Detection range: 7 m
Detection angle: 120°
Operating temperature: 0°C to 60°C
Application: Tuya or Smart Life (ZigBee PBX required for operation)
Dimensions: 60 x 50 mm + stand
Weight: 50 g
The set includes
PIR M1 motion detector
Reset needle
Screw
Adhesive layer
Battery AAA - 3 pcs.
Instruction