Description
Arduino Uno is the main and, at the same time, the most popular edition of the entire series. The Board contains an ATmega328 microcontroller, equipped with 14 digital I/o of which 6 can be used as PWM outputs (e.g. for motor control), and 6 analog inputs. The system works with the signal ticking with the frequency of 16 MHz and has 32 KB Flash memory and 2 KB RAM SRAM.
The subject of the sale is the original product of Arduino Uno, Botland is the official distributor of this company.
Key features
Below are a few features that distinguish modules Arduino Uno compared to other programmable tiles.
Name
Description

Installed

bootloader

Thanks to installed bootloader, to programme the device, the appropriate USB cable and software from manufacturer's website is enough .

Arduino

Shield


The distribution of connectors allows the installation of special plates, so-called Arduino Shield.

Digital 

outputs

14 digital inputs/outputs allows, in particular, control of LEDs, relays and reading the buttons' states.

Efficiency of

current

The maximum power load for a single output is 40 mA.

PWM

Outputs

6 PWM outputs allow e. g. motor control and brightness control of the LEDs.

Analog 

inputs

6 inputs of built-in analog-digital converter box with a resolution of 10-bit support, in particular, sensors with analog output.

Serial

Communication

The device supports popular network interfaces, including UART, I2C and SPI.
Special functions
Some of the pins have special functions and their brief description is available in our guide.

Built-in

memory

Atmega328 system with a clock signal with a frequency of 16 MHz, has 32K Flash memory, 1 KB EEPROM and 2 KB of RAM SRAM.

Power 

DC connector

To power the Arduino, you can use any power source with a voltage from 7 V to 12 V with DC connector 5.5 x 2.1 mm.

Power

USB port

The tile can be powered from a computer via USB cable, bearing in mind that the maximum power load for the USB port is 500 mA. Arduino has a system that protects the socket from short-circuit and the flow of too large current.

ICSP

Connector

The module has ICSP outputs for connecting an external AVR programmer.

IOREF

Pin

The IOREF Pin provides direct access to the volatge with which I/O outputs work.

Built-in

led

The connected led on pine 13 allows debugging of simple programs.

Output

3.3 V


Built-in voltage regulator provides power to external devices with the voltage of 3.3 V with current consumption of 50 mA.

Microcontroller

in THT

Thanks to the use of THT case, in case of damaging the main microcontroller Atmega328P you can easily replace it.
First run
To help you get started with the module, we have prepared a tutorial that concerns the installation and first run of the Arduino environment.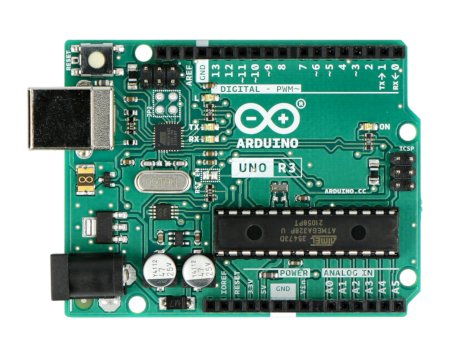 The distribution of elements on the Arduino Uno.
Specification
Supply voltage from 7 V to 12 V
Model: Arduino Uno
Microcontroller: ATmega328

Maximum clock frequency: 16 MHz
SRAM: 2 KB
Flash memory: 32 KB (5 KB is reserved for bootloader)
EEPROM: 1 KB

I/O Ports: 14
PWM outputs: 6
Number of analog inputs: 6 (channels of converter A/C with 10 bit resolution)
Serial interfaces: UART, SPI, I2C
External interruptions
The connected led on pin 13
USB A connector for programming
DC connector 5.5 x 2.1 mm for power
Transparent, self-adhesive stems in kit
ThingSpeak platform for Arduino and Raspberry Pi IoT.