Description
The reflective module with IR sensor equipped with digital and analog output. It works with a voltage from 3 V to 5.3 V. It enbales the detection of obstacles in the range from 0 to 30 mm.
Specification
Supply voltage: 3 V to 5.3 V
Analog and digital output signal
Operation range: 0 to 30 mm (the highest precision: from 0 to 10 mm)
The kit includes a cable with female tips
Module dimensions: 26 x 16 mm Thanks to the included cable, the user can easily connect the device.
Pins
The device has a 4-pin connector. The output signal can lead, for example, to an analog input of the module of Arduino.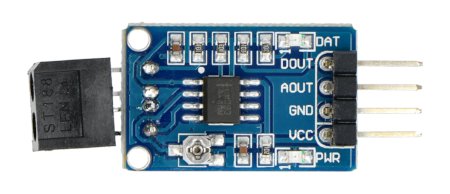 | Pin | Description |
| --- | --- |
| VCC | Supply voltage: 3 V to 5.3 V. |
| GND | The ground of the system. |
| AOUT | Analog output signal. |
| DOUT | The digital output signal, the sensitivity is adjusted by the integrated potentiometer. |