Product description: Test kit, THT electronic components tester - BTE-056
A set for testing and recognition of electronic components such as resistors, capacitors,inductive components,PNP, NPN bipolartransistors,MOSFETtransistorswith P and N channels or diodes.The built-in screen allows to display characteristic values for a given element. The device allows you to test THT systems.
The tester is assembled and ready to use immediately after unpacking. No soldering is required.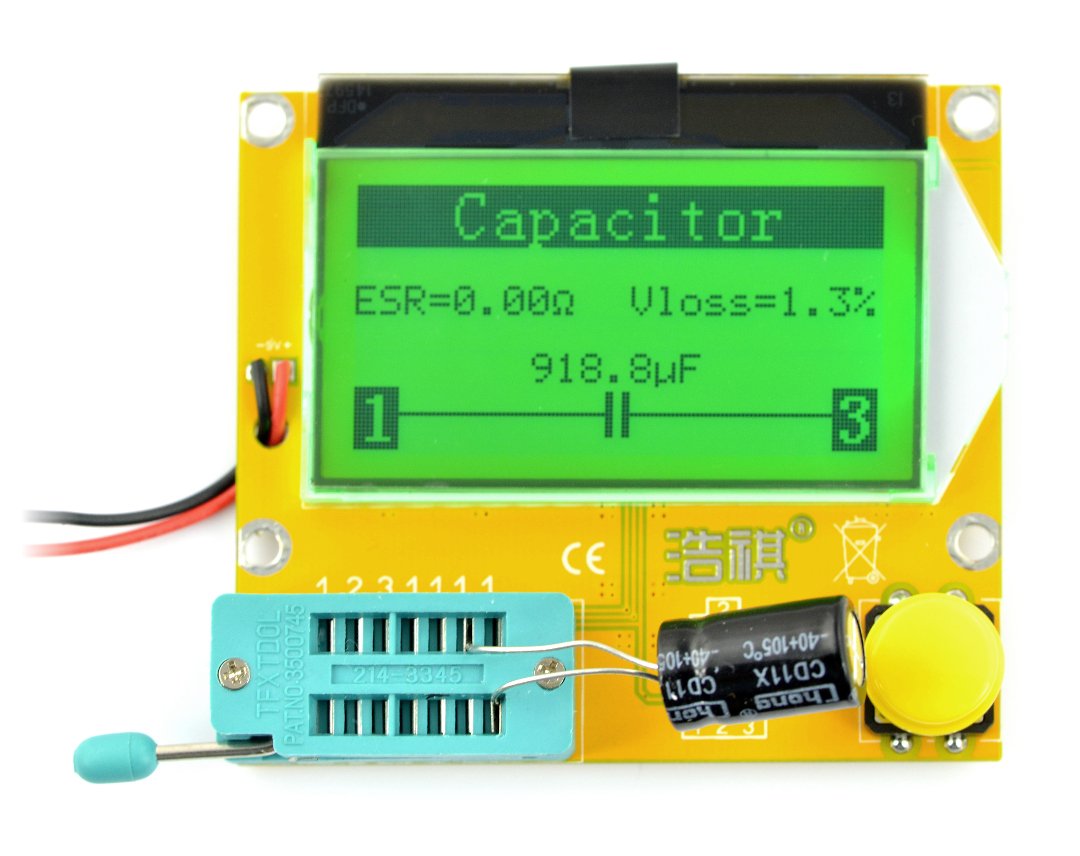 The kit enables testing of various electronic components, e.g. resistors.
The meter is a simple but practical tool useful in the workshop of any electronics. It is very easy to use. When measuring capacitors, make sure that the tested element is discharged. The construction of the meter is simplified, therefore the measurement tolerance does not always coincide with expensive, professional tools.
Specification of the electronic components tester
Electronic components test kit
Graphic LCD screen 128 x 64 px for displaying values of tested elements
ZIF-14 base for testing THT elements
Automatic detection of the current gain factor (B)
Power supply:9 V 6F22 battery(not supplied)
Output voltage: 5.5 V to 12 V DC
Measurement speed: approx. 2 to 10 s
For large capacitors, the test can take up to 1 minute
One-button testing
Automatic shutdown
PCB dimensions: 71 x 63 mm
Measuring ranges
Capacitor capacity: from 25 pF to 100 mF (resolution 1 pF)
Measurement of the ESR for capacities above 2 uF
Inductance: 0.01 mH to 20 H
Resistance: 0.10 Ω to 50 MΩ
PNP / NPN transistor tester, concrete measurement h21e
Measurement of MOSFET transistors with P and N channels
Thyristorian/Thyristorian measurement
Uf diodes max 4.5 V