Product description: Capacitive fingerprint reader (B) - UART/USB - Waveshare 20679
A capacitive fingerprint reader developed by Waveshare. The reader module is equipped with a connector microUSB and UART interface. It is based on a high performance Cortex processor with commercial high security fingerprint algorithms and an advanced solid state fingerprint sensor. The module is designed as an intelligent module to extend the capabilities of the design with fingerprint capture, image processing, template generation and storage, matching and fingerprint search. Powered by 3.3 V to 5 V.
Capacitive fingerprint reader.
Main features of the fingerprint reader module
Easy to use with a few simple commands
Commercial fingerprint algorithm, stable performance, fast identification
Sensitive detection, just lightly touch the identification area, no pressure
Allows free input / output of fingerprint images, fingerprint function files and other fingerprint activities
Dual communication, UART or USB
Connection of the module
Module is equipped with microUSB port and 5-pin connector for UART communication. It is powered by 3.3 V or 5 V. Its leads are:
VCC - supply voltage 3.3 V or 5 V
GND - ground
TX - UART transmitter line
RX - UART receiver line
RST - RESET pin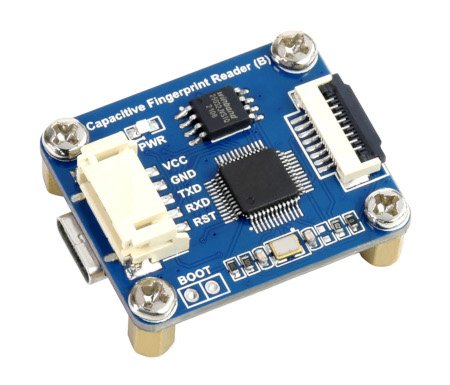 Pinouts of fingerprint reader module.
Specification of fingerprint reader
Sensor
Semiconductor (capacitive)
Image
DPI 508
Resolution
208 x 288 px
Greyscale
256 (8-bit)
Measuring area
14.6 x 10.6 mm
Fingerprint capacity
3000
Security Level
1-5 configurable, 3 by default, higher value, lower FAR (False Acceptance RATE) but higher FRR (False Rejection Rate)
Encryption Key
64-bit
Image Acquisition Rate
20 fps
Match time
0,5 s
Current consumption
up to 40 mA
Power supply voltage
3.3 V or 5 V
Communication port
USB or UART
ESD
SD IEC 61000-4-2 LEVEL 4 positive/negative air discharge 15KV
Transmission rate
configurable: 9600, 19200, 38400, 57600, 115200, 230400, 460800, 921600 bps
115200 bps default
Module dimensions
34 x 28.5 mm
Sensor dimensions
33.4 x 20.4 mm