Product description: MPR121 - Gator Breakout touch sensor - 12 channel - capacitive - STEMMA QT / Qwiic - Adafruit 4830
Gator Breakout sensorenablestouch detectionIt is equipped withMPR121chip. Made with capacitive technology, it provides the user with 12 channels that allow for12 independent measurements. To each channel individual touchpads andtouch panelscan be connected by means ofcrocodile cables. The module is compatible with popular Arduino microcontroller and derived boards, such as Metro board. It also works with Raspberry Pi. For communication it usesI2Cbus with address 0x5A.
Product is compatible with Arduino
Detaileduser guideand technical documentation of theMPR121chip are available on the manufacturer's website.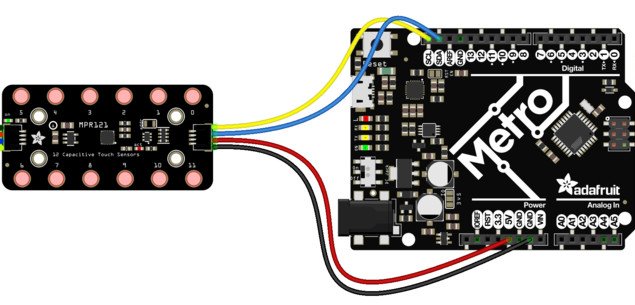 Connection diagram of Gator Breakout sensor with Metro board.Metro boardis not included in the set, you can buy it separately in our shop.
Gator Breakout sensor pinout description
Sensoris equipped withSTEMMA QT / Qwiicconnector which allows for quick and convenient connection of the element with the microcontroller module. The diagram on the picture beside shows how to connect Gator Breakout withMetroboard which is equivalent to popular Arduino board.
VIN - power supply pin with voltage from 3 V to 5 V DC.
GND - system ground.
SCL - I2C bus clock pin.
SDA - I2C bus data line pin.
Technical specification
Compatible with Arduino and Raspberry Pi
Chip: MPR121
Technology: Capacitive
Number of channels: 12
Communication interface: I2C
Interface address: 0x5A
Connectors: STEMMA QT / Qwiic
Dimensions: 51 x 25.2 x 4.5 mm
In our offer you will also find othersensorswhich will allow you to extend your project according to your individual needs and alsopaper touch sensorswhich may become an addition to the Gator Breakout.