Product description: Rotary encoder, pulser, optical encoder - DFRobot 400P/R
Theencoder generates a two-phase AB rectangular pulse signal by rotating a disc with an optocoupler. The resolution is 400 pulses per revolution for each phase, making it possible to obtain 1600 pulses per revolution using both signals. The maximum speed of the encoder is 5000 rpm.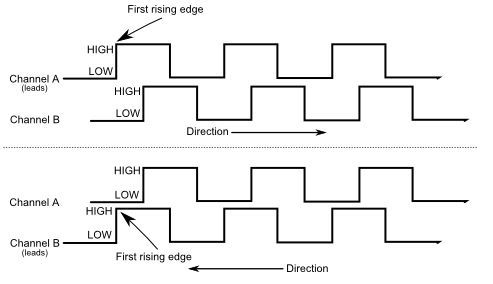 Sensor circuit output
The output of the circuit is an NPN transistor in an open collector configuration, which means that a pull-up resistor is required. The module has a 750L05 voltage regulation circuit, which is supplied with a DC voltage from 4.8 V to 24 V. The encoder is compatible with Arduino, STM32, PLC and other types of microcontrollers.
Attention!
The module has NPN output in open collector mode which needs pull-up resistors.
Encoders principle of operation
Technical specifications of the sensor from DFRobot
Supply voltage: from 4.8 V to 24 V
Encoder size:

Φ 39 x 36.5 mm

Shaft diameter:

Φ 6 x 13 mm
Shaft outer platform:

Φ2 0 x 4.85

mm

Screw fixing: M3

Weight: 234 g
Set includes
Encoder
Mounting bracket
Mounting screws
2 x 10K resistor