Product description: LSM6DSO - I2C/SPI 3-axis accelerometer and gyroscope - SparkFun SEN-18020
A 6DoFLSM6DSOchip board containingan accelerometerandgyroscopealong with a 9 kB FIFO buffer and embedded processing interrupt functions. The device can detect shock, roll, motion, touch, count steps, and read temperature. The LSM6DSO is capable of reading accelerometer and gyroscope data at speeds up to 6.66 kHz. The module is equipped with anI2C and SPIcommunication interface. Built-in two Qwiic connectors allow easy connection to the main module via I2C interface. The module operates at3.3 V.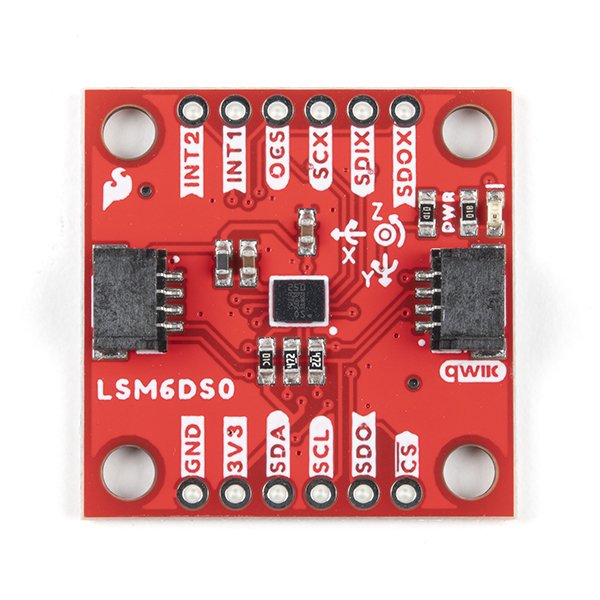 Module with 6DoF LSM6DSO chip.
LSM6DSO main features
Accelerometer data reading at 6.66 kilosamples/sec.
Reads gyroscope data at 6.66 kilosamples/sec.
Draws 0.55 mA for modes up to 6.66 kilosamples/sec.
Temperature readout.
Buffer up to 9 kB of data between readings (built-in FIFO).
Step counter (pedometer).
Shock, tilt, motion, tap, double tap detection.
Host other sensors to its FIFO.
Triggering of interrupt pins by built-in functions or by low capacity/filled FIFO warning.
6DoF module pinouts
The 6DoF LSM6DSO chip module is equipped with two Qwiic connectors for simple connection to the main module using the I2C interface. On the board there are also holes for soldering goldpin strip or wires with 2.54 mm pitch, where pins for power supply and I2C and SPI interfaces are located. The board operates with 3.3 V, to use 5 V boards you need to use logic voltage converter 5 V<->3.3 V.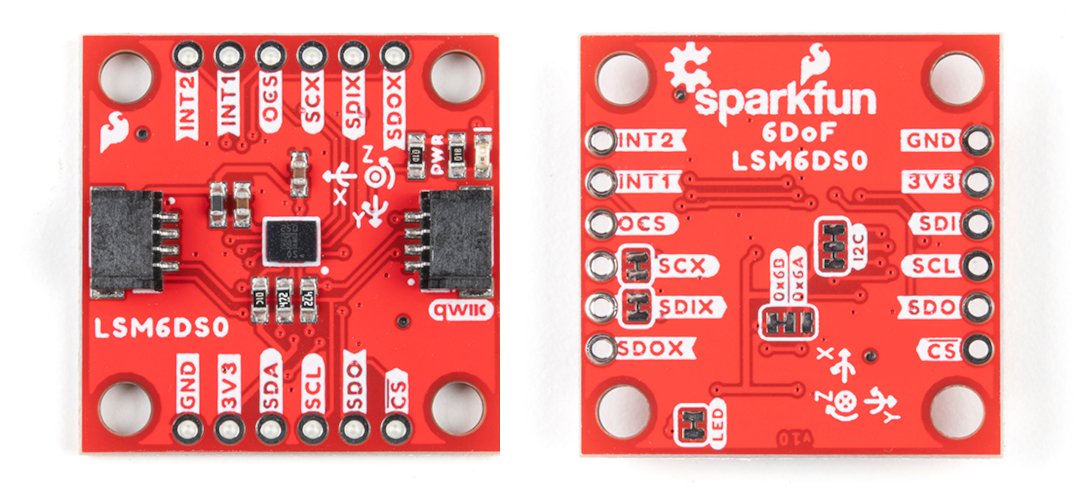 Pinouts of 6 DoF module.
| Pin | Description |
| --- | --- |
| GND | System ground |
| 3V3 | Supply voltage 3,3 V |
| SDA | I2C interface data line |
| SCL | I2C / SPI interface clock line |
| SDO | MISO data output of SPI interface |
| CS | Chip Select pin |
| INT2 | External interrupts |
| INT1 | External interrupts |
| OCS | Select aux circuit |
| SCX | Serial clock aux |
| SDIX | Serial interface data input aux |
| SDOX | Serial interface data output aux |
| SDI | MOSI data input SPI interface |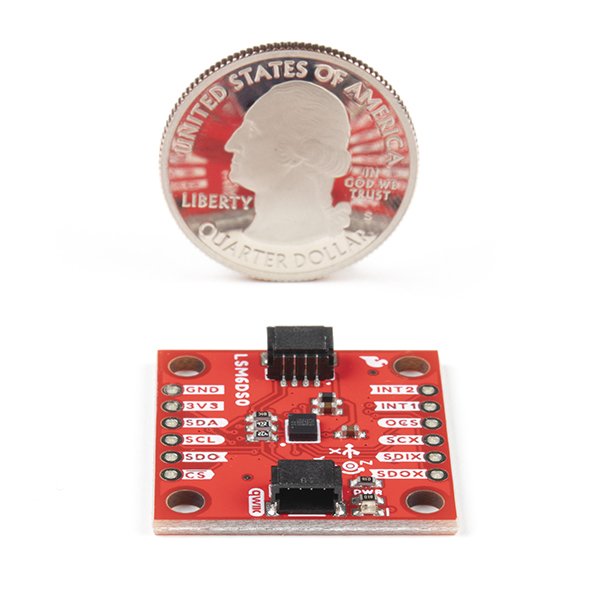 6DoF LSM6DSO module.
LSM6DSO module specification
2x Qwiic connector
I2C address: 0x6B (default), 0x6A
Accelerometer reading range: ± 2 / ± 4 / ± 8 / ± 16 g full scale
Gyroscope reading range: ± 125 / ± 250 / ± 500 / ± 1000 / ± 2000 dps full scale
Built-in temperature sensor: 16-bit
Operating voltage: 1.71 V to 3.6 V (3.3 V for Qwiic)
Current consumption at 1.8 V:

0.55 mA in combo high performance mode
0.265 mA in low power combo mode

"Always on" with low current consumption for accelerometer and gyroscope
I2C / SPI interface
Smart FIFO up to 9 kB
Operating temperature: from -40°C to 85°C
Board dimensions: 25.4 x 25.4 mm