Description:
LSM6DSO32

6DoF IMU - 3-axis accelerometer and gyroscope - Adafruit 4692

The6DoF LSM6DSO32is a module of theAdafruit3-axisaccelerometerand 3-axisgyroscope. It is used to measurelinear accelerationwithin± 4 / ± 8 / ± 16 / ± 32 gat an update frequency of 1,6 Hz to 6,7 kHz andangular velocity within± 125 / ± 250 / ± 500 / ± 1000 / ± 2000 dpsat 12,5 Hz to 6,7 kHz. For connection to the main module it usesgoldpinconnectors (included in the kit) or wires terminated with STEMMA QT orQwiicplug (available for purchase separately in our shop). The sensor communicates via theI2CandSPIinterface and can be used with devices poweredfrom 3 V to 5 V.

Product compatible withArduino

In order to facilitate work with the module, the manufacturer has prepareduser guideand a samplecodeforArduino IDE.
Description of module outputs
The sensor module is equipped with specialleadsto which the suppliedgoldpinconnectors (2.54 mm raster) must be soldered. Less complicated connection is provided by two inputs for STEMMA QT /Qwiicconnectors on the sensor board. They can be purchased separately in our shop. The description of the outputs can be found in the table below. Detailed information about this can be found inthe user guide.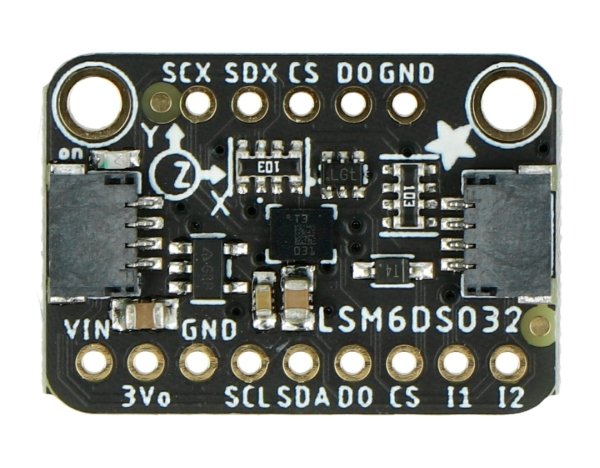 The 6DoF sensor with accelerometer and a gyroscope.
Pin
Description
SCX, SDX, CS, TO

Pins for advanced users are used to connect the sensor to another.

VIN
Pin power supply from 3 V to 5 V.
3Vo
Output voltage 3.3 V with 100 mA capacity.
GND
The weight of the system.
SCL
I2C communication interface clock line.
SDA
I2C communication interface data line.
DO
SPI bus data output.
CS
Chip Select. It should be in a low state for SPI.

INT1

INT2

Main interruption pins. They can be configured to go to a low state when new conditions occur, e.g. new measurement data. See thedocumentationfor more information.
Technical specifications
Supply voltage: 3 V to 5 V
Communication: SPI / I2C
Connector type:

Bilateral Qwiic
Goldpin - raster 2.54 mm

Accelerometer:

3 axes: X, Y, Z
Scope: ± 4 / ± 8 / ± 16 / ± 32 g
Frequency: 1.6 Hz to 6.7 kHz

Gyroscope:

3 axes: X, Y, Z
Scope: ± 125 / ± 250 / ± 500 / ± 1000 / ± 2000 dps
Frequency: 12.5 Hz to 6.7 kHz

Communication interface: I2C / SPI
I2C interface address: 0x6A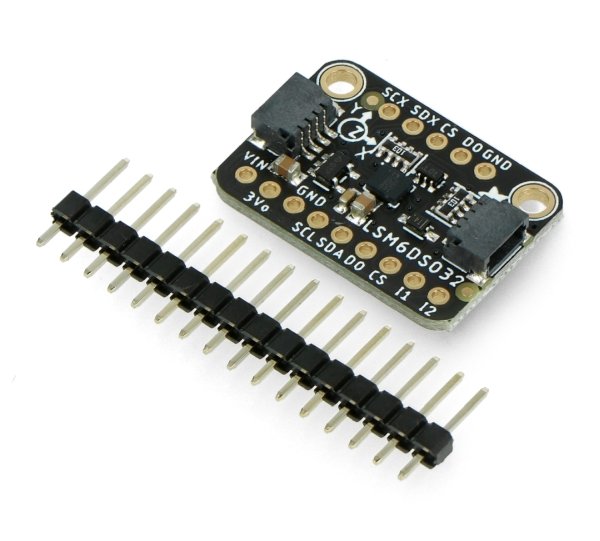 The set includes dedicated 2.54 mm goldpin raster connectors.
Set contents
MPM3610 converter module
Goldpin raster connectors 2.54 mm