Specification:
Supply voltage: 5.0 V
Current: 25 mA max.
Output: analog signal
The range of output signal: 0 V to VIN (5 V)
The dimensions: 7.5 x 13 mm
Hole diameter: 2.5 mm
Weight: 0.5 g (without connectors)
Soldered goldpin connectors
Details inthe documentation.
Method of application
Using the built-in into some microcontrollers, the internal comparator
The module has three pins that need to be connected:
VIN - supply voltage
GND - ground of the system
OUT - analog output signal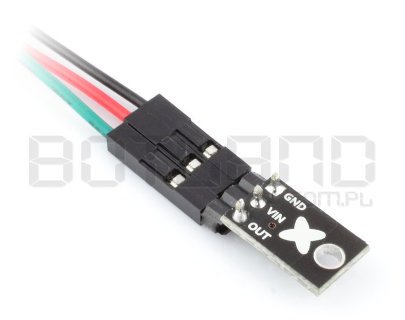 Pins are the popular goldpin connectors to connect sensor with breadb
oard
 or commissioning module execution (for example, 
the Raspberry Pi
 - via an analog-to-digital converter, 
STM32Discovery
 or 
Arduino
) via 
wires
. Sensors of this type find use in robots like 

line follower

 as sensors detecting the track as a black line on a white background.