Product description: Hackster & DFRobot IoT Starter EEDU Kit - IoT sensor kit - ESP32 - DFRobot TEM2022B-EN-1
Hackster & DFRobot IoT Starter EEDU Kit is a set of boards and peripheral devices that allows you to implement Smart Home , Smart Campus and broadly understood home automation projects. It helps the user immerse themselves in the world of IoT and enables them to build simple and advanced applications related to it. It is ideal for quick prototyping and observing the impact of individual variables on the environment. The kit includes, among others, the FireBeetle ESP32-E IoT WiFi and Bluetooth board, which is the heart of the entire project. It also includes a mini MP3 player, a transmitter, a motion sensor and much more.
The manufacturer has prepared a detailed user's guide that contains all the resources needed to work with the set.
Special features of the set
Perfect for beginners and slightly more experienced users
It contains universal sensors that you can also use in other projects
It allows for easy prototyping and adding additional peripheral devices
It allows you to discover the potential of IoT applications
Application Hackster & DFRobot IoT Starter EEDU Kit
Arduino IoT projects
Smart Campus projects
Smart Home projects
Learning programming
Prototype designs
STEAM education
FireBeetle technical specifications
Chip: ESP-WROOM-32
Processor: dual-core Tensilica LX6 clocked at up to 240 MHz, 4 MB Flash memory and 520 kB SRAM memory
WiFi standard: 802.11 b/g/n/d/e/i/k/r
Supported frequency range: from 2.4 GHz to 2.5 GHz
Bluetooth protocol: compliant with Bluetooth v4.2 BR/EDR and BLE standards
Connector: USB Type C, USB charging supported
USB to UART converter: CH340K
Supply voltage: 3.3V / 5V
Power consumption: 10 µA
Pinouts: 5x analog pins, 10x digital pins, 1x UART, 1x I2C, 1x SPI, 1x GDI
Signaling: built-in RGB LEDs
Connectors compatible with the FireBeetle V2 series
Operating temperature range: -40°C to 85°C
Mounting hole diameter: 2 mm
Plate dimensions: 25.4 x 60 mm
Plate weight: 23 g
Technical specifications of Gravity - IO Shield
12 digital ports
5 analog ports
3 I2C ports
1 UART port
1 SPI port
GDI display interface
Screw connector for connecting an external power source
Plate size: 60 x 25.4 mm
Mounting hole diameter: 2 mm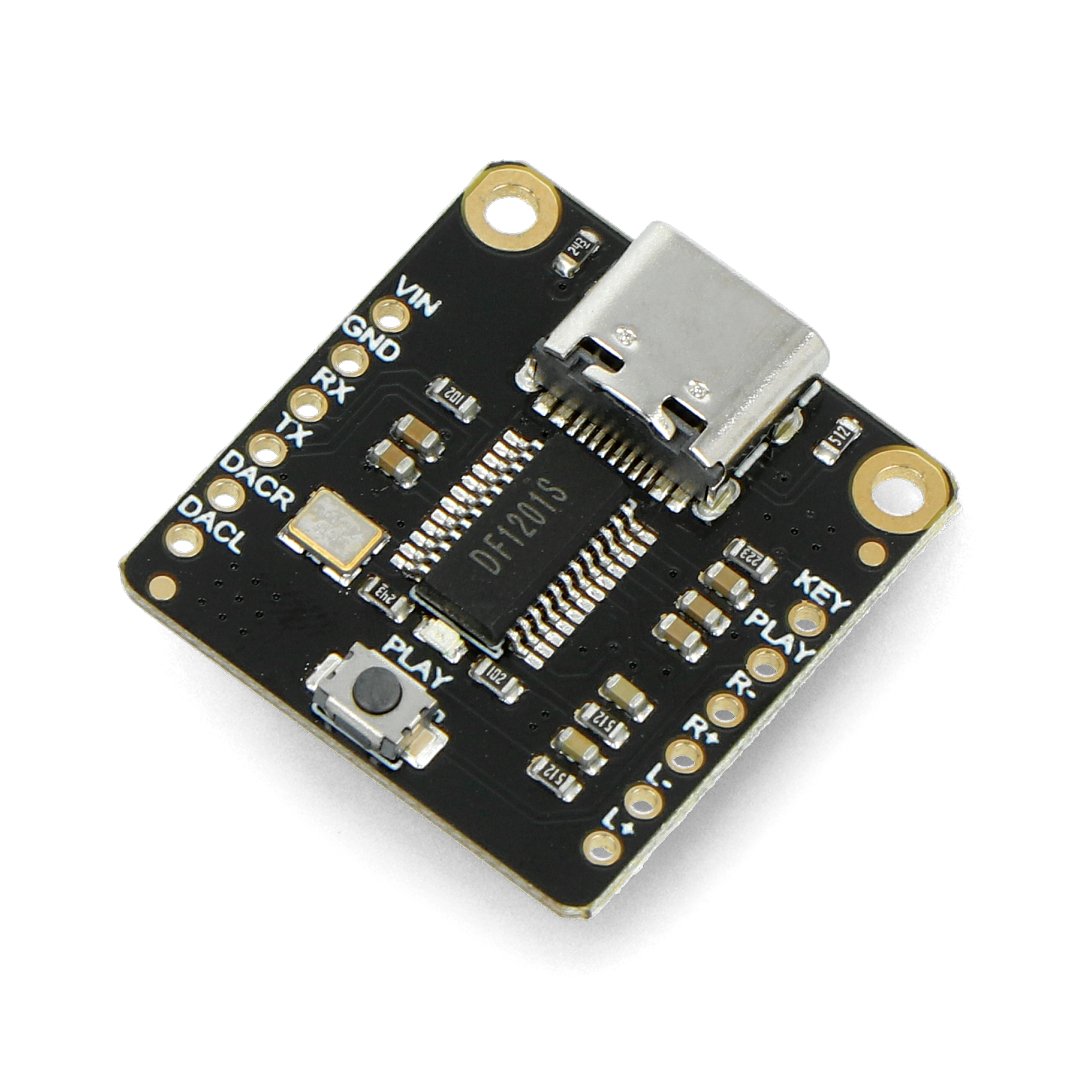 Fermion - DFPlayer Pro - mini MP3 player - two-channel with built-in 128 MB memory - DFRobot DFR0768.
DFPlayer Pro technical specifications
Type: mini MP3 player
Number of channels: 2
Built-in memory: 128 MB
Analog U-disk support: yes
Operation options:

from Arduino
ADKEY control
using AT commands
physical control using built-in buttons

Built-in power amplifier: yes
Supported audio formats: MP3, WAV, WMA, FLAC, AAC, APE
Communication interface: UART
Supply voltage: 3.3V / 5V
Operating current: > 20 mA
Operating temperature range: from -20°C to 70°C
Recommended humidity during operation: from 5% to 95% RH
Module dimensions: 23 x 24.5 mm
Technical specifications of the loudspeaker
Type: stereo speaker
Power: 3W
Resistance: 8 Ohms
Distortion: < 10%
Terminals: cables terminated with a JST PH2.0 plug
Housing: yes
Black colour
Dimensions: 70 x 30 x 16 mm
Weight: 24 g
Technical specifications of the motion sensor
Technology: PIR
Supply voltage: 3.3V to 5V, maximum 6V
Working current: 15 uA
Output voltage: high 3V, low 0V
Detection angle: 100°
Detection distance: up to 7 m
LED indicator: detection - high, LED ON
Interface: Gravity
Dimensions: 30 x 22 mm
Technical specifications of the I2C splitter
Connector standard: Gravity
Module: I2C bus splitter for Gravity modules
Number of ports: 8
Dimensions: 27 x 37 mm
Weight: 17 g
Technical specifications of the RTC module
Operating voltage: from 3.3 V to 5.5 V
Current consumption: 1 uA
Time range: up to 2099
Accuracy: ±5 ppm at temperatures from -40°C to 85°C
RTC reports: seconds, minutes, hours, days, months and years up to 2100
Countdown timer
Possibility to choose 12 or 24 hour time display
Dimensions: 35.5 mm x 22 mm
Weight: 6 g
Ultrasonic distance sensor specifications
Supply voltage: 3.3V to 5.5V
Average current consumption: less than 20 mA
Measuring range: from 2 cm to 800 cm
Resolution: 1 cm
Communication interface:

RS232 (TTL - RX,TX pins)
PWM - from 0 to 25,000 μs, with a change of 1 cm / 50 μS
Analog output - signal proportional to the distance 6.8 mV per 1 cm

Measurement time: 100 ms
Possibility to control the modeling servo
Protection against reverse connection of the supply voltage
Compensation of the influence of temperature on the measured value
Operating temperatures: from -10°C to 70°C
Dimensions: 51 x 22 mm
Weight: 25 g
‌