Description: AI camera - HuskyLens - Kendryte K210 - OV2640 2Mpx.
TheAIcamera module, can easily learn to detect and recognize objects, colors and even faces with the click of a button. It can detect faces at30 frames per second, thanks to the new generation of AI chips and many sophisticated algorithms.HuskyLensis compatible withArduino,Raspberry Pi,LattePandaandmicro: bit, thanks to UART communication.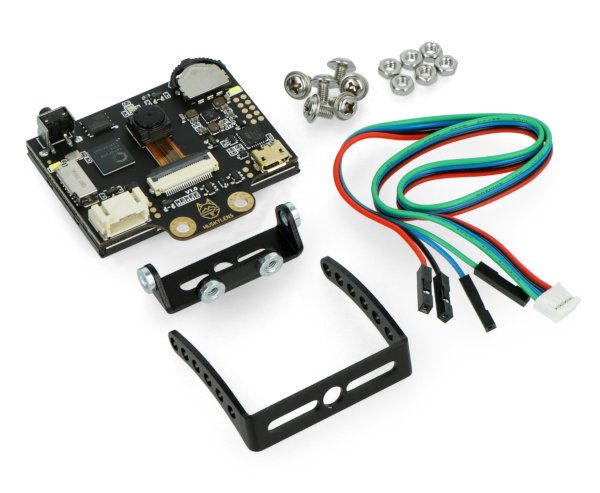 HuskyLens AI camera set.
Application of HuskyLens in practice
HuskyLens has built-inalgorithms, allowing you to learn new colors, objects and faces. The more he learns, the more accurate his work will be. It is also possible to put the module into a state of learning that allows you to learn an object from different perspectives and in different scopes. The camera will be perfect for projects usinggesture commandsor building robots whose task is to follow an object or follow us, the device can recognize several thingsat once, e.g. inthe mode of moving on a designated line it can simultaneously recognize a sign telling it to turn right.
We also offer HuskyLens in PROversionwith OV5640 5Mpx video sensor.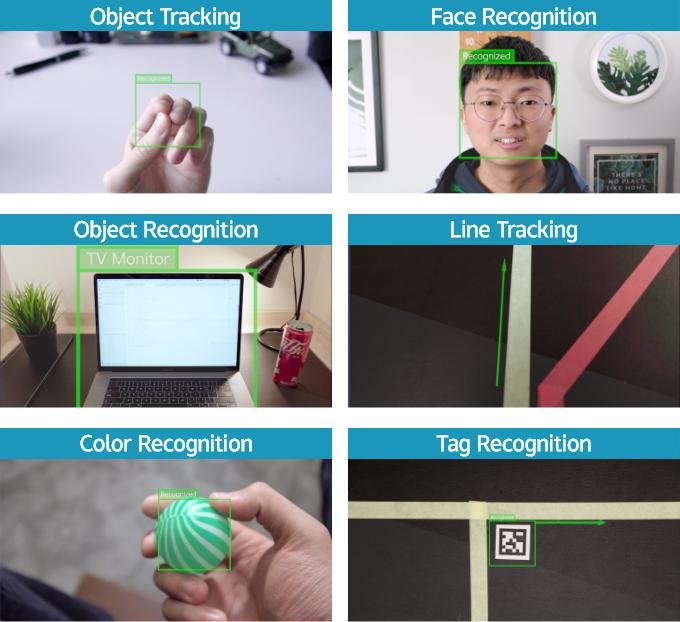 Functions of the device.
Checkour blog onhow to connect AI camera with Maqueen robot.
What distinguishes the HuskyLens camera
The main idea behind the creation of HuskyLens was to create an AI camera that is easy to use and connect, thanks to the use of the UART port, connection to the most popular minicomputers does not require advanced algorithms or codes. Moreover, the small size of the module makes it a perfect fit for the concept of robot eyes or interactive toy. The performance of the device is up to 30x higher than with classical Artificial Intelligence algorithms, which allows to record fast moving objects.
Video showing the capabilities of HuskyLens.
HuskyLens vs. HuskyLens PRO
Basic information
Model
HuskyLens
HuskyLens PRO
Technical Specification
Processor
Kendryte K210

Kendryte K210

Video sensor

OV2640 2 Mpx

OV5640 5 Mpx

Power supply

3.3 ~ 5.0 V

3.3 ~ 5.0 V

Power consumption
Interfaces
Functions

Face recognition
Recognition of objects
Colour recognition
Character recognition
Following the objects
Following the line

Face recognition
Recognition of objects
Colour recognition
Character recognition
Following the objects
Following the line

+ new features added

as the device develops

Languages to be supported

English
Simplified Chinese

English
Traditional Chinese
Simplified Chinese

+ new languages will be added

in the future

Display
Size
2"
2"
Type of matrix
IPS
IPS
Resolution
320 x 240 px

320 x 240 px

Differences between products

Slower camera operation
(Longer operation)
Lower camera resolution
System support is limited to
only for the development of the functions,
, with which the device is equipped.

Faster camera operation
(Faster operations)
Higher camera resolution
Full system support,
new
functions and languages will be added,
current functions will be developed
In the future, optimised
to fit
into the requirements of
educational devices
Specification of HuskyLens camera
Processor:

Kendryte K210
Dual core RISC-V 64-bit 400 MHz

A video sensor: OV2640, 2 Mpx
Power supply: 3.3

to 5.0 V

Power consumption:

310 mA at 3.3 V
220 mA at 5.0 V

Communications:

UART, 9600~115200 bps
I2C, 100 to 400 K

Display: 2" IPS screen, resolution 320 x 240 px
Built-in functions

Following the objects
Recognition of objects
Character recognition
Face recognition
Colour recognition
Follow the line

Dimensions: 52 x 44.5 mm