Product description: MyoWare 2.0 Muscle Sensor Basic Kit - set with medical sensors - SparkFun KIT-21267
MyoWare 2.0 Muscle Sensor Kit in the Basic version containing the Muscle Sensor (version 2.0.4), an overlay with an LED segment display and 10 biomedical electrodes that can be used for EEG , ECG and EMG testing (they are single-use and have a layer of latex gel) . A jumper cable is also included to connect the electrode to the reference pin of the MyoWare 2.0 muscle sensor. MyoWare 2.0 Muscle Sensor Basic Kit is a basic and universal set compatible with Arduino, which allows you to measure and visualize muscle activity. Data visualization is possible thanks to the EMG overlay, which, in conjunction with the MyoWare 2.0 muscle sensor, indicates the level of muscle tension. Simply attach the electrode to the muscle to be tested and flex in the correct sequence. The modules are also equipped with snap-on connectors , thanks to which the MyoWare overlays can be stacked.
Attention!
MyoWare 2.0 and Cable Shield are not intended to diagnose, treat, mitigate or prevent disease or other conditions in humans or other animals.
MyoWare 2.0 Ecosystem
The MyoWare 2.0 ecosystem consists of overlays that can be easily combined with muscle sensors and Arduino boards to create a universal electromyography (EMG) sensor. The innovative system of used connectors allows easy snapping of the modules, and the analog TRS Jack 3.5 mm connector is used to connect to the microcontroller, by means of which the raw, filtered and rectified electrical activity of the target muscle is measured. This eliminates the need to solder connections between the boards.
Special features of the MyoWare 2.0 Basic Kit
Power parameters

Minimum: 2.27V
Typical: 3.3 V to 5 V
Maximum: 5.47V

Input bias current

Average: 250pA,
Maximum: 1nA

Reverse polarity protection
Three output modes: Raw EMG, Rectified, Envelope
Expandable with additional overlays
MyoWare connectors:

3x male snap connector (electrode input)
3x female snap-in connectors (power out and EMG Envelope)

LED indicators: VIN, ENV
Adjustable gain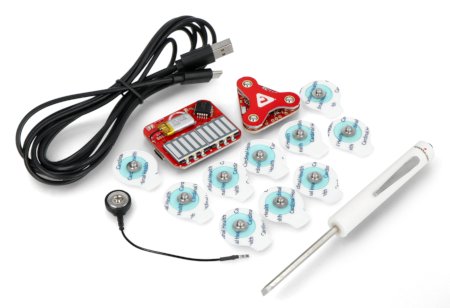 Kit contents.
Kit contents
1x USB A - USB C cable - 2 m long
1x Screwdriver
The set does not contain a microcontroller board (e.g. Arduino), which is required for the proper operation of the sensors. It must be purchased separately.