Product description: Shelly Duo - smart WiFi bulb - E27, 9W, 800lm, warm color.
Intelligent light bulb with E27 thread,controlledby WiFi using mobile applications. Shelly Duo can also be paired with thevoiceassistantGoogleHome and Amazon Alexa. With the application you can adjust the brightness of the bulb,color temperature, turnthe deviceonor off, and set the schedule of the bulb.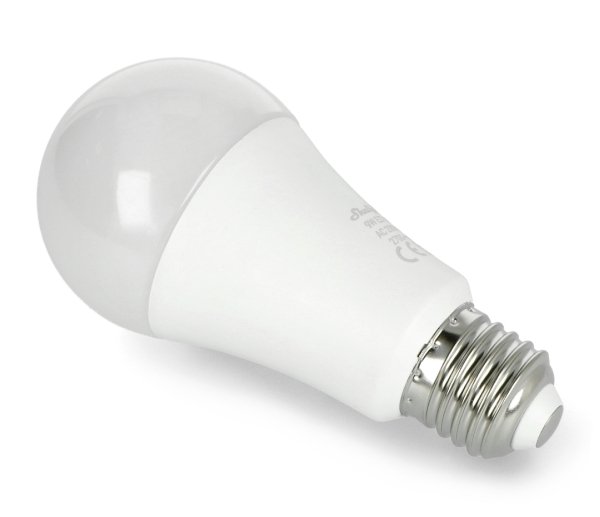 Intelligent Shelly Duo bulb.
The Shelly Duo bulb can also be controlled with commands usingGoogle Home and AmazonAlexaVoiceAssistant. Shelly devices can also be connected to various automation systems such as: MQTT, HomeSeer, OpenHAB, Home Assistant, iBroker, REST, Hubitat, HOOBS, Symcon, Domoticz, nymea.
Main features of Shelly Duo
Wireless communication- no additional HUB is required, connects directly to your home WiFi network.
Remote control - the bulbcan be controlled using the application for mobile devices from anywhere in the world.
Wide compatibility- compatible with Android and iOS systems, as well as with Google Home and Amazon Alexa.
Widerange of power supply voltage- the bulb operates with voltage from 110 V to 220 V AC.
Energy-saving- low power consumption thanks to LED technology, power consumption is 9 W.
Schedule- in the Shelly Cloud application you can set a schedule for each day of the week.
Light dimming- the bulb has a dimming function that can be controlled from the application.
Shelly Duo bulb specification
Supply voltage: 230 V AC ±10%, 50

Hz

Power consumption: 9 W
Thread: E27
Brightness: 800 LM
Colour temperature: from 2700K to 6500K
Type: LED
Glass: matt
Leakage class: IP20
Operating temperature: -10°C to 40°C
Service life: 30000 h
Communication: WiFi 802.11 b/g/n 2.4 GHz
Communication range: up to 50 m outside, up to 30 m inside
Dimensions: 122 x 60 mm