Product description: BleBox rainSensor - WiFi rain sensor
The BleBox rainSensor rain sensor is equipped with a WiFi wireless communication system (µWiFi), which allows you to send notifications to mobile devices about rain or send information to other automation devices. The BleBox sensor is supplied with 12 V or 24 V from the power supply, BleBox wind & rainSensor module or other controller. rainSensor is equipped with 3 wires, of which the yellow / green wire is an open-drain output, which works like relay contacts. In case of rain, the output pin is shorted to common ground.
Main features of BleBox rainSensor
Detects the start and end of precipitation
Remote access and a graph of measurement data history allow you to check whether it was raining and when the last rainfall occurred
The ability to set a notification on a mobile device about rain
The connection with other automation controllers allows e.g. to close the roof windows by sending information to the BleBox shutterBox or to turn off the need to water the garden with the BleBox switchBoxDC controller.
An additional logic output allows the sensor to be connected to other automation systems
Compact size and functional housing with IP55 tightness class allow for installation in a convenient place, both with screws and mounting tape
History and notifications in wBox
A dedicated application for mobile devices - wBox allows you to read an interactive graph and the annual history of measurements. This allows you to check when the last rain occurred, and with remote access you can check if it is currently raining. Data can also be exported to a file. In the application, it is also possible to send a notification about the beginning of rain, you will always have time to hide the laundry or secure sensitive belongings.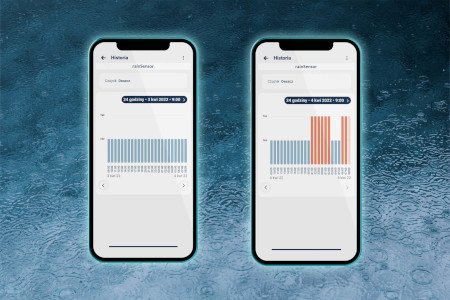 Notifications and data history.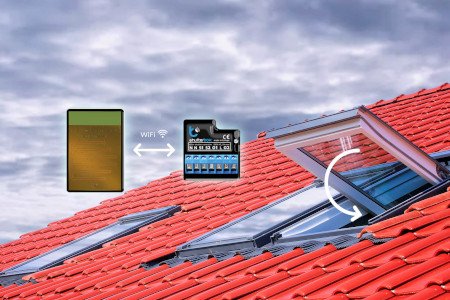 Control of other automation devices.
Automation with BleBox rainSensor
The rainSensor sensor after detecting rainfall can wirelessly send an order to 30 other BleBox devices. In conjunction with the BleBox shutterBox driver, it allows you to automatically close the windows or use switchBoxDC to turn off the solenoid valves so as not to water the garden during rain. In addition, the sensor is equipped with a wired logic output that allows you to connect rainSensor with other building automation elements that do not have WiFi wireless connectivity.
BleBox rainSensor connection diagram
Before starting the installation of the device, remember to disconnect the power supply in the circuit by turning off the appropriate fuse or by removing the power cord from the socket. The controller should be installed in a place protected against accidental damage. The sensor is equipped with three wires.
Black / white - ground
Red / brown - supply voltage 12 V / 24 V
Yellow / green - open-drain logic output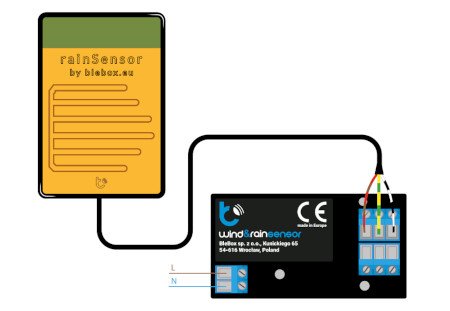 Example of connection to BleBox wind & rainSensor.
BleBox rainSensor specification
Supply voltage
12V or 24V
Energy consumption
up to 1 W (stand-by), up to 1.5 W (with heating)
Number of control outputs
1
Type of outputs
open-drain, ground control
Maximum load
6 W.
Type of measurement
rainfall detection (start and end)
Sensor heating
automatic, energy saving function
Case
made of plastic, flooded with a polyurethane composition containing no halogen, self-extinguishing thermal class B (130 ° C)
Cable type and length
LIYY 3x0.25 mm 2.1 m
Level of security
IP55
Security
reverse polarity, ESD
Antenna
integrated
Mounting method
holes in the mounting bracket or a self-adhesive element (tape), mounting bracket adapted to rotate the direction of the cable exit, horizontal installation in a place exposed to rain
Working temperature
-20 ° C to 50 ° C
Ambient temperature in the measuring range
from 0 ° C to 50 ° C
Transmission standard
µWiFi, compatible with WiFi 802.11g
Transmission
two-way, encrypted
Communication mode
direct WiFi connection (Access Point), WiFi connection (router), connection from anywhere in the world (Internet)
Transmission frequency
2.4 GHz
API
Open
Compatible devices
Apple iPhone, Apple iPad, iPad Mini, Android, computers supporting HTML5
Encryption
WPA2-PSK and Authenticated Encryption (AEAD)
Dimensions
50 x 35 x 16 mm
‌