Product description: CD74HCT125E logic circuit - line driver - 4 channels
Alogiccircuit in the form of aline driver, a three-state buffer.It has4 channels, at the output of which appears a state dependent on the state given to the input pins. Three states can appear on the output of the gate, these are: low state, high state and high impedance state. TheCD74HCT125Eis poweredfrom 4.5V to 5.5V DC. The chip is encapsulated in a DIP14 package with THT through-hole mounting.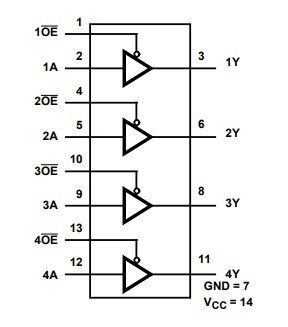 Circuit diagram.
Logic gate principle of operation
The circuit is equipped with four channels, at the output of which appears the corresponding state. Pins nOE and nA are input pins, to which a low or high state can be given, while pins nY are output pins, on which a low, high or high resistance state can appear.
Input
Output
nA
nOE
nY
H
L
H
L
L
L
X
H
Z
H = high state
L = low state
X = any state (low / high)
Z = high impedance state, OFF state
Specification of the CD74HCT125E chip
Supply voltage: 4.5 V to 5.5 V
Number of channels: 4
Output state: low, high, high impedance
Operating temperature: from -55°C to 125°C
Housing: DIP14