Description
The Grove module is equipped with a humidity, temperature and pressure sensor powered with the voltage of 3.3 V to 5 V with I2C and SPI interface. Measuring range: temperature: -40 °C to 85 °C, humidity: 0 %RH to 100 %RH, pressure: from 300 hPa to 1100 hPa. The kit also includes a cable suitable for Seeedstudio Base Shield v2.0.
Pins
The system has four pins on the special connector, to which the cable is included in the set.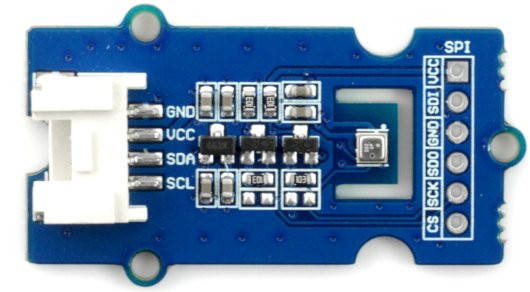 The distribution of the elements on the board.
| Pin | Description |
| --- | --- |
| VCC | Supply voltage: from 3.3 V to 5 V. |
| GND | The ground of the system. |
| SCL | Clock line of the I2C interface. |
| SDA | Data line of I2C interface. |
Specification
Supply voltage: from 3.3 V to 5 V
Working current: 0,4 mA
Operating temperature: -40 °C to 85 °C
The working range of pressure sensor: from 300 hPa to 1100 hPa (accuracy +/- 1 hPa)
Operating range of the temperature sensor: -40 °C to 85 °C (accuracy +/- 1 °C)
The range of the humidity sensor: 0% to 100% (accuracy +/- 3%)
System: BME280
Interface: I2C, SPI
I2C address: 0x76 (default) 0x77
Dimensions: 40 x 20 mm
Weight of 10 g