Product description: Flexible 16x16 matrix - 256 RGB LEDs - WS2812B individually addressed.
The matrix consists of 256 RGB LEDs, each of which can be controlled separately to display a colour from a 24-bit palette. The elements are evenly distributed in sixteen lines of sixteen columns. Only one pin of any microcontroller (e.g.Arduino) is needed to operate the module. The system is powered by 5 V, it consumes maximum 60 mA for each diode (at white).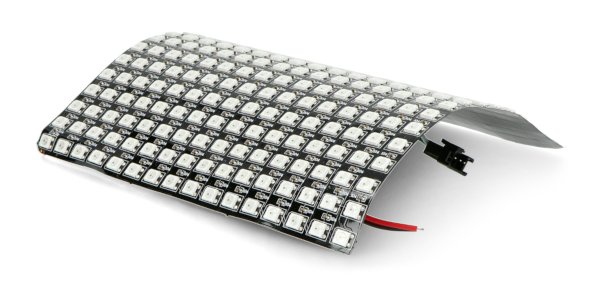 The matrix is made of a flexible material, which enables bending. In our offer there are also matrices with other dimensions available (in the picture a matrix 8 x 32 RGB LED). The product cooperates withNeoPixellibrariesfor Arduino.
The applied communication protocol enables serial connection of the dies. Another NeoMatrix should be connected to the output connector, connecting 5V, GND and DOUT with DIN respectively. The manufacturer points out that when using four or more matrices, the Arduino Uno RAM may not be sufficient. It should also be noted that each subsequent matrix will need to increase the efficiency of the power supply.
Connection
The device has a 3-pin connector consisting of the following leads:
GND- module weight
5 V- supply voltage, current consumption of one diode is maximum 60 mA, which at 256 diodes gives about 15 A.
DIN- digital control signal from the microcontroller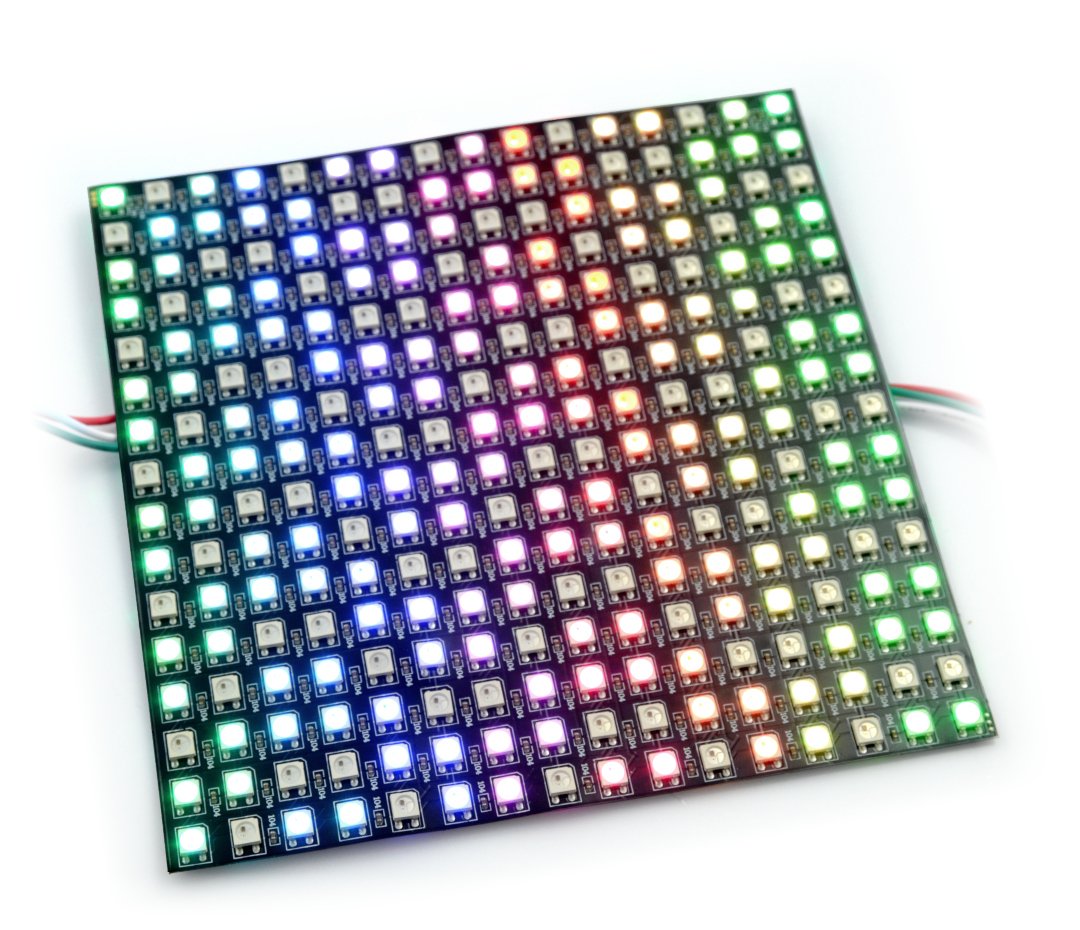 Specification of the 16x16 matrix
Power supply voltage: 5 V
Current consumption: maximum 60 mA for one diode, white
LEDs used: RGB LED WS2812B
Dimensions: 160 x 160 x 2 mm
Weight: 55 g
Flexible 16x16 - 256 RGB LED - WS2812B individually addressed
LED matrix made of flexible material. The structure of the matrix is made of 256 RGB LEDs in 16x16 arrangement. To control the matrix, it is required to connect the power supply and control signal from a single digital pin of the microcontroller or Arduino board. Power supply to the master requires a stabilized power supply or a 5V battery. Due to limited current capacity of the microcontroller's pins in the Arduino board, the manufacturer recommends to power the matrix with a separate DC power supply. With this matrix, we can display images and animations of over 16 million different colors.
RGB LED matrix - small sea of colors at your fingertips
The LED matrix built fully on its own in a home workshop environment is a very ambitious project that can bring satisfaction, but also teach a lot of patience - especially when launching a built prototype something may not go our way. From an economic and practical point of view, a better solution is to choose a ready-made flexible LED matrix, which is made according to the latest, repeatable production technology. By combining the RGB 16x16 LED matrix in multi-matt chains, you can create an attractive, multicolored lighting that can serve as a Christmas decoration, as well as an element of the building facade design.