Description: Cytron MD25HV - Single channel DC motor controller - 7V-58V/25A.
A set with a single-channel DCmotorcontrollerby Cytron, equipped with a rocker switch for changing the direction of rotation and a potentiometer for speed control, so it does not require acontrol signal froman external controller. The controller works with motors supplied withvoltage from 7 to 58 V andcurrentup to 25 A (momentary 60 A) without using a heat sink. The board has dimensions 112 x 61 x 32 mm.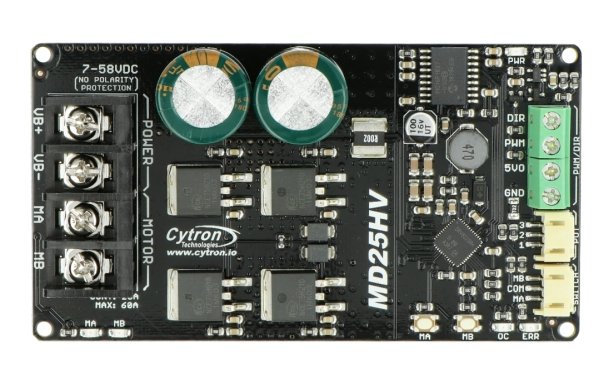 Single-channel controller for DC motors - Cytron MD25HV.
Operation of Cytron MD25HV motor controller
The controller can be used in 2 ways:
Method 1 -by software, using the controller controlling PWM and DIR signal. Logical voltage is from 1.8 V to 30 V, so it is compatible with a wide range of controllers such as Arduino, RaspberryPi,PLCs.Thanks to the buck converter, the controller is equipped with a 5 V output from which you can power the controller directly from the controller without using additional power supplies.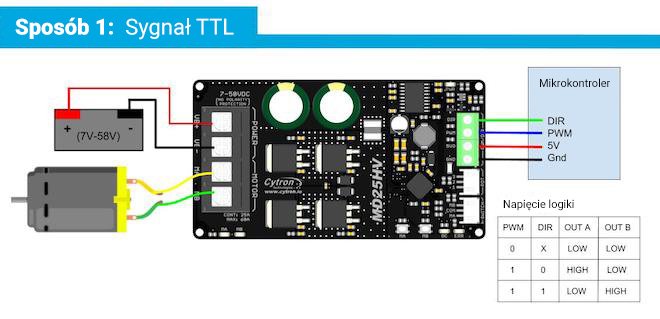 Method 2 -manually, using the included potentiometer and buck switch which are responsible for the speed and direction in which the motor rotates.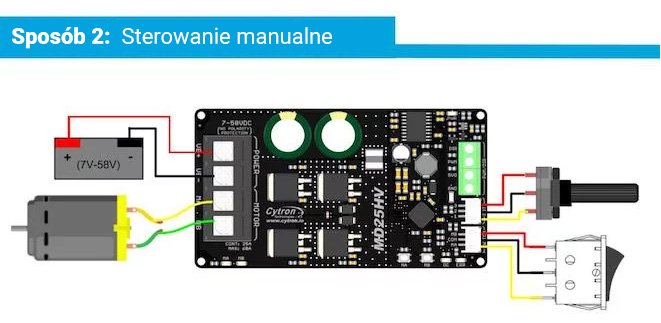 Additionally, the board is equipped with 2 test buttons and LEDs. The buttons are used to check the correct operation of the controller. The MA button is responsible for the motor rotation forwards, MB backwards. Using the test buttons, the motor will use 78% of its maximum speed. The LEDs inform about it in turn:
PWR: It lights up when power supply occurs.
ERR: Flashes when an error occurs.
OC: Indicates overcurrent protection operation.
MA: It lights up when the motor is moving forward.
MB: It lights up when the motor is turning backwards.
MD25HV motor controller protections
The module hasovercurrent protection, protecting the controller from damage whenenginewill stop or if the motor is too large. In casemotortries to draw more power, the controller limits it to the maximum. The controller also hasprotection against too high a temperature. If the board temperature increases, the current limit is limited. In addition, the controller is equipped withan under-voltage switch,which is used to switch off the controller output when the output voltage falls below the lower threshold.
Attention!
The controller does not have protection against reverse polarity, please pay special attention to the way the module power supply is connected.
DC motor controller specification - Cytron MD25HV - 7V-58V/25A
Supply voltage: 7 to 58 V
Maximum continuous current: 25 A
Maximum instantaneous current: 60 A
Number of channels: 1
Security:

Overcurrent
Under-voltage
Temperature

Dimensions: 112 x 61 x 32 mm
Weight: 81 g