Product description: Pressure and temperature sensor BMP280
The pressure sensoris a module for a precision digital barometer that can be used to measuretemperature andatmosphericpressure.It is compatible with Arduino and connectsto itvia the I2C bus. BMP280 is an improved version of BMP180. The BMP280 sensor now has a smaller surface area, consumes less energy and measures much more accurately. TheSPIinterface allows more measurement modes. The module is veryeasy to connectand use, just connect the sensor with Arduino board using Grove cable. Examples of codes are given below in the library.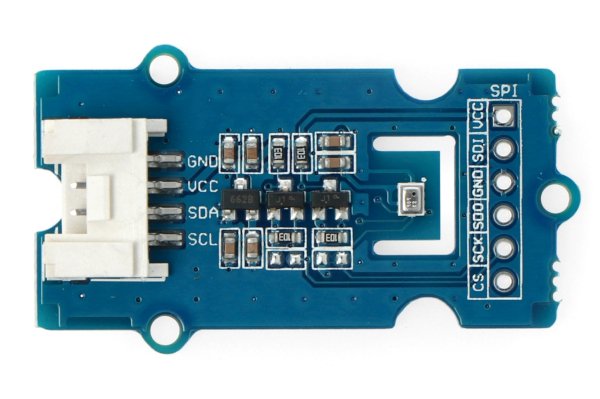 Grove - pressure and temperature sensor BMP280.
| Downloads . | Description |
| --- | --- |
| VCC | 5 V power supply for the system |
| GND | GND Weight |
| SDA | I2C data line |
| SCL | Clock line I2C |
A product compatible withArduino.
The manufacturer has prepared a libraryforArduino users.
Features of BMP280 sensor
High measuring accuracy of temperature

± 1,0°C and

pressure ± 1,0 hPa

Easy to use I2C interface compatible with Grove

Supports I2C and SPI bus

Can be used as an altimeter with an accuracy of ± 1 m

It has a wide measuring range (from 300 hPa to 1100 hPa)

Small in size
Pressure and temperature sensor specification BMP280
| Name | Description |
| --- | --- |
| Input voltage | 3.3 V or 5 V |
| Working current | 0.6 mA |
| Wide measurement range | From 300 hPa to 1100 hPa |
| Operating temperature | From -40°C to 85°C |
| Accuracy of temperature measurement | ±1,0°C |
| Measuring modes | Forced or periodic |
| Sampling rate possible | 182 Hz |
| I2C address | 0 x 77 or 0 x 76 |
| Input interface | I2C, SPI |
| Dimensions | 40 mm x 20 mm |
Included:
Pressure and temperature sensor BMP280

Female to female, 4-pin cable, 20 cm long