Description: Redox Classic 6 - transmitter + receiver - 6 channels - Redox.
Theradioproduced byRedoxallows to control flying modelssuch as planes, helicopters or drones. It can also be used to operate vehicles movingon waterandpaved surfacessuch as boats, motorboats and cars. The transmitter signal transmission range, under optimal conditions and undisturbed working environment,is from 800 m to 1500 m. The range value depends on the receiver used. The set containsa Redox Classic 6 transmitter and anRDX.6 receiver. The transmitter is equipped with6 channels: 5 proportional and 1 switch channel (1/0). It has built-in Elevon and Aileron mixers, Dual/Rates for channels 1, 2 and 4 and electronic trimmers and reversers for channels 1, 2, 3 and 4.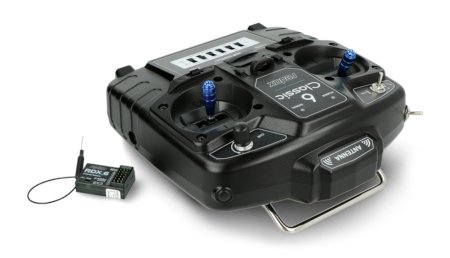 The set includes Redox Classic 6 transmitter and Redox RDX.6 receiver.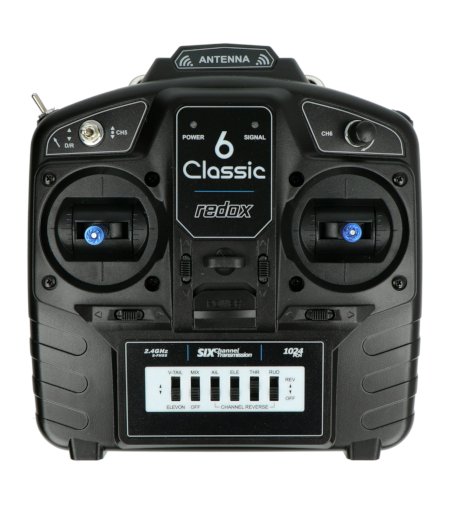 The radio can be used to control model aircraft, helicopters, cars or boats.
Technical specification
Redox Classic 6 transmitter:

number of channels: 6 x PWM + 1 x SBUS
supported types of models: planes, UAV, helicopters, cars, boats
frequency / modulation: 2,4 GHz S-FHSS, FSK (1024 p.)
operating voltage: 4.8 V to 6 V
current consumption (own): ~120 mA
power supply: 4 x AA NiMH rechargeable batteries or 4 x LR6 alkaline batteries
low voltage alarm: yes
weight: 434 g (approx. 525 g with batteries)

Redox RDX.6 receiver:

number of channels: 6 x PWM + 1 x SBUS
frequency / modulation: 2.4 GHz S-FHSS, FSK
working voltage: from 3.5V to 7.4 V (max. 2s LiPo)
compatible with HV servos: yes
dimensions: 35 x 22.5 x 9 (12) mm
antenna length: 160 mm
weight: 7.2 g
Contents of Kit
Redox Classic 6 transmitter
Redox RDX.6 receiver