Description
Module with a multiplexerem TCA9548A, allows you to connect 8 different digital I2C interfaces to one interface. Works with a supply voltage from 1.65 V to 5.5 V. The address of the output of the I2C bus can be changed, which allows you to connect up to 64 I2C devices. The module is equipped with QWIIC connectors.
The product is compatible with Arduino
The manufacturer has prepared auser guide that contains the detailed description of the device and an example of connecting to Arduino.
Connection
The device has a standard QWIIC connector through which you can connect special sensors. In addition, the built-in switches allow you to change the I2C address of the module. This allows you to connect up to 8 modules in one line I2C, and up to 8 devices for each module.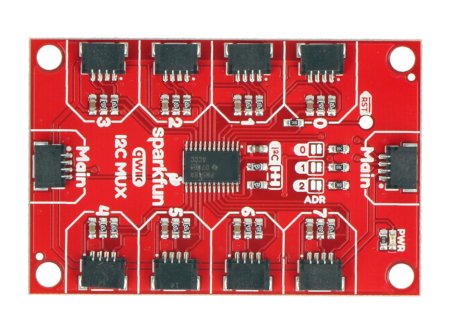 Specification
Supply voltage: from

a 1.65 V to 5.5 V

Multiplexer: TCA9548A (documentation)
Connection input: I2C bus
Connector QWIIC: raster 1 mm, 4-pin
The possibility of changing the address input I2C bus from 0x70 to 0x77
Switchable 8 separate I2C
Board sizes: 55 x 36 x 3 mm