Description
Pressure sensor for Arduino works in the range of up to 1 kg. It is based on HX711, it has 24-bit analog-to-digital converter designed to scale weight and control applications for direct connection with the strain-gauge beam.
Connection
The converter's module has four screw connectors for connecting the strain-gauge beams. The supply voltage converter is from 2.6 V to 5.5 V. The Arduino module connection is  easier because because of the applied Gravity connector.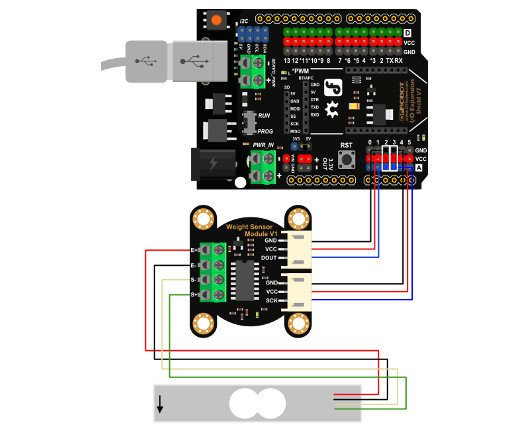 Example of connecting to Arduino.
Specification
Analog-to-digital converter:

supply voltage: 2.6 V to 5.5 V
system: HX711
two input channels
active low PGA noise level with chooseable gain 32,64 and 128
the voltage regulator for the cells and ADC analog power supply 
the oscillator requires no external elements
Power-on-Reset
simple digital control and serial interface: control via pins, no programming required
data range to choose: 10 SPS or 80 SPS
operating temperature: -40

°C

to 85

°C

Strain-gauge beam:

operating voltage from 5 V to 15 V

measuring range: 1 kg (approx. 10 N)

output frequency: 1 mV / V

zero offset: 0,05 / 0,03 % F. S
temperature of the zero offset:

0.05 / 0.03 % F. S / 10 °C

zero output:

± 0.1 mV/V

input impedance: 1055 Ω 

±15 Ω

output impedance: 1000 Ω 

±15 Ω

overload: 200% F. S

output: analog

dimensions: 38 x 33 mm
Set includes
1x strain-gauge beam
1x analog-to-digital converter
2x Gravity cable