Description
The sensor is based on a system MAX30105 and allows for the determination of the distance, pulse, smoke, and even blinking of an eye. It has 3 LEDs (green, red and IR) and very responsive detector of photons. The sensor operates basing on the detection of differences in reflections on different LEDs. Different materials will have different signature of reflections (for example, oxygenated blood or the smoke from a fire). It communicates through an I2C interface, has a Qwiic connector. It works with voltages of 1,8 V and 3,3 V.
Connection
The sensor works with a voltage of 3.3 V, communicates via the I2C bus, therefore it can be connected directly to boards with 5 V logic, eg Arduino Uno. In addition, the board has Qwiic connectors that facilitate the connection of the sensor. The Qwiic system is designed to operate at 3.3V, make sure you are NOT using a different voltage.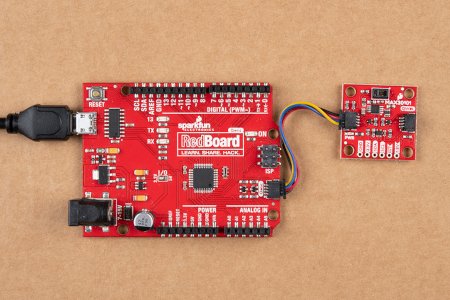 Example of connecting to Arduino.
Pins
The sensor has 6 pins with the pitch of 2.54 mm. To the holes, you can solderthe goldpin connectors- not included, sold separately. In addition, there are two configuration jumpers, the description of which can be found inthe user guide.
| Pin | Description |
| --- | --- |
| GND | The ground of the system. |
| 3,3V | Supply voltage 3,3V. |
| SDA | The data line of the I2C bus. |
| SCL | The clock line of the I2C bus. |
| INT | Interrupt's output, it is indicated by the low status. |
| 1,8V | Supply voltage 1,8V. |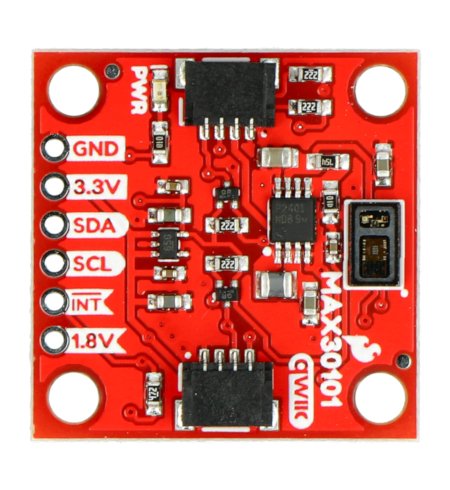 The distribution of pins of the module.