Description: Organizer / Adapter for SIM cards - set S01
Compactorganizer, designed tohandleandstorevarious sizes ofSIM cards. The set includes also nano - micro and nano - SIMadapterandmicroSDcardreader. Organizer comes inblackcolor with yellow inserts. Dimensions of the container are5,5 x 8,5 x 0,5 cm.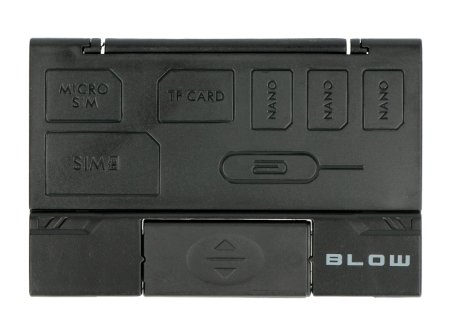 The set includes a tool to remove the cards.
Specifications
Set: S01
Colour: black
Dimensions: 5.5 x 8.5 x 0.5 cm
Set contents
Organizer - slots:

place for SIM card - 2 pcs.
micro SIM card slot - 1 pc.
nano SIM card slot - 3pcs.
place for micro SD card - 1 pc.

Adapters:

nano - micro SIM adapter - 1 pce.
nano SIM - SIM adapter - 1 pc.

Other:

Card removal tool
2 in 1 - micro SD card reader and USB plug - USB type C connector