Description
The sensor determines the liquid level without dipping into the liquid. Due to the lack of contact with the liquid, the module is suitable for level measurement of hazardous substances such as strong acid, bases, toxic substances and containers under high pressure. The sensor has 4 configurable sensitivity stages that are set using the SET button. It works withthe Arduino modules. The kit includes a cable adapted toGravity DFRobot IO Expansion Shield.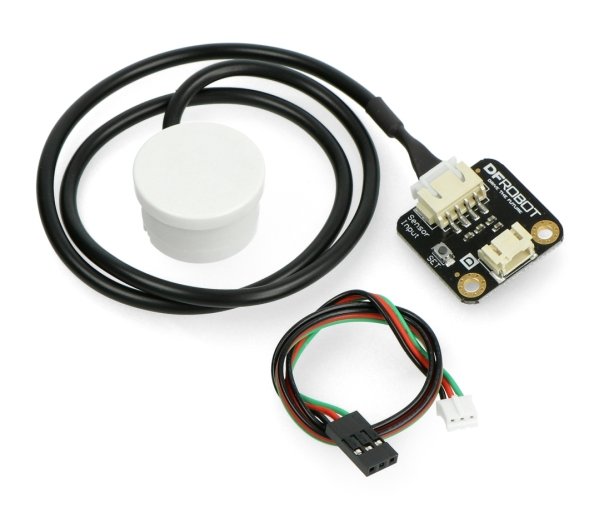 The product is compatible with Arduino
Sample code and detailed information can be found inthe user guide.
Connection
The module works with any microcontroller with digital inputs, including Arduino. To read data, simply connect the power supply and output pin to any input of the microcontroller, and read its status.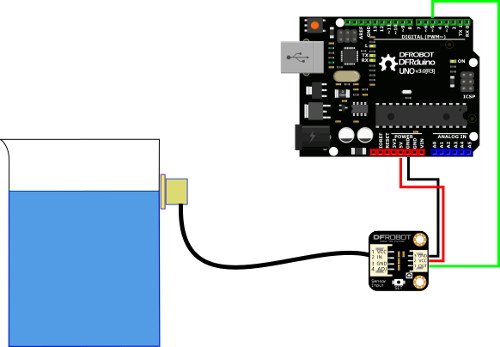 Example of connecting the sensor withArduino.
Specification
Chip: XKC-Y25-T12V
Supply voltage: 5 V to 24 V
Output current: 50 mA
Operating temperature: -25°C to 105°C
Output of the low level: 0 V
Output of the high level: VCC
Response time: 500 ms
Material: ABS
The range of measurement of induction: from 0 mm to 13 mm
Cable length: 450 mm
Communication: digital signal 0/1
Cable for connection toGravity DFRobot IO Expansion Shield
The dimensions of the board: 28 x 28 mm
Set includes:
The main module
Probe
Connecting cable