Description
The module is equipped with four relays JQC-3FC with a coil supplied with voltage of 12 V. The system is controlled directly from the USB connector. In addition, the module has 6 GPIO pins, 5 of them working as analog inputs. Works with voltage of 5 V.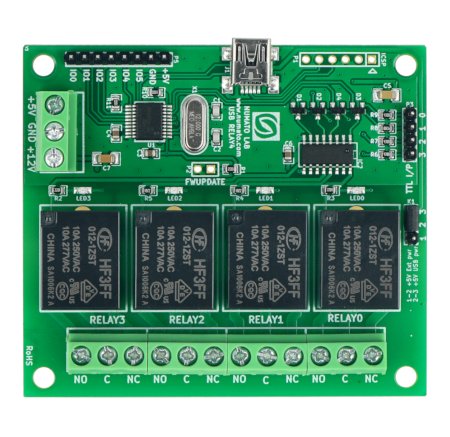 Service module
All pins can be individually programmed as inputs or outputs. The module can be controlled from any application with a serial console, for example, RealTerm. The device supports user-friendly commands, e.g. "relay 1" turns on relay 1. The full list is given in the user guide. The manufacturer also provides source codes of programs in different programming languages.
Specification
4 relay

The maximum voltage of contacts:

250 V AC / 7 A.
125 V AC / 10 A
120 V DC / 12 A
28 V DC / 10 A

Screw terminal block connectors
Control: UART interface or goldpin pins

The number of GPIO pins: 6 (goldpins 2.54 mm)
The number of analog outputs: 5 (can work as a digital)
Voltage: 5V (miniUSB)
The maximum performance of the outputs current: 25 mA
Working voltage of pins: 5 V
Relays require 12 V power
Resolution of the A/C transmitter: 10-bit
Connector: miniUSB (wire soldseparately)
Module dimensions: 78 x 68 mm
The manufacturer has prepared a detailed 
guide
 together with the module's manual.