Description: BleBox wLightBoxS Pro - LED WiFi driver - Android / iOS application.
A ready-made controller module that allows you to controlthe brightness oftheLED lighting through aWiFinetworkusingapplications for mobile devices. It is powered by 12 Vor 24 V,the maximum load is 120 W. The Pro version is equipped with a long-range antenna and a tight, waterproof housing.The device hasscrewconnectorsformounting cables.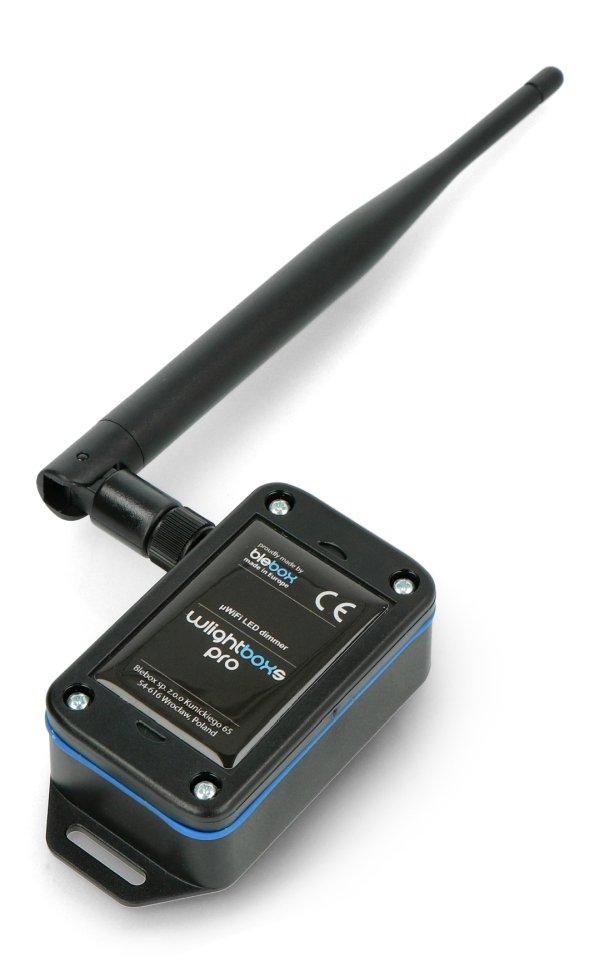 Lighting controller BleBox wLightBoxS Pro. The device has screw connectors formountingcables.
The controller can be controlled with the wBox application for Android and iOS devices, with a monostable (bell) button, with the BleBoxuRemoteremote control,the inBox buttonorthe Google Home and Amazon Alexa voice assistant. TheBleBoxdevices also integrate with the HomeAssistanthome automation system.
Wiring diagram
Before installing the unit, make sure that the voltage in the supplied circuit is disconnected. The module has been enclosed in a sealed enclosure with cable entry throughings.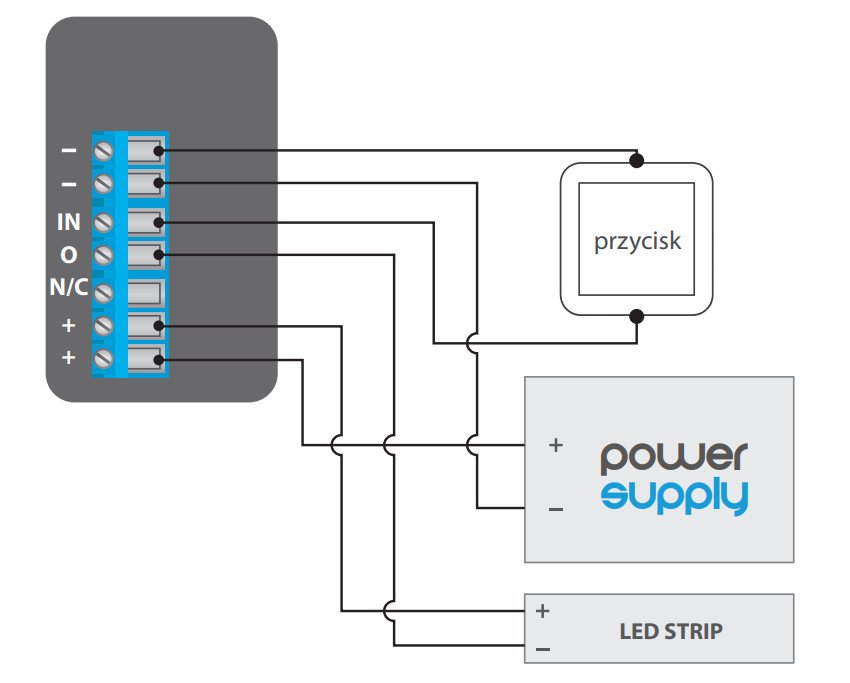 Wiring diagram.
The module has seven screw terminals to which you can connect the wires with a screwdriver:
- - system ground.
IN -input for connecting the switch.
O -control signal connected to the negative pole of the LED bar.
N/C- not connected.
+- supply voltage, shared with the LED bar.
Controller configuration
To configure the wLightBox Pro driver, connect to its WiFi network and then anewwLightBoxS Pro device will appear in the downloaded wBox application from thePlay or AppStore. To preconfigure the device, click on the default device name.
BleBox wLightBoxS Pro driver specification
Power supply voltage: 12 V or 24 V
Energy consumption: up to 1 W
Maximum current: 5 A
Maximum input voltage: 12 V or 24 V
Number of outputs: 1
Maximum load: 120 W
Output type: open-drain, PMW, ground control
Color mode: MONO
Degree of protection: IP54
Casing: plastic, flooded with polyurethane composition, contains no self-extinguishing halogens
Mounting method: two mounting holes 18 x 3.5 mm or double sided tape
Protection: Reverse polarity, ESD
Communication type: μWiFi

, WiFi compatible, 802.11g

Frequency of transmission: 2.4 GHz
Transmission standard: bidirectional, encrypted
API: open
Encryption: WPA2-PSK and encrypted authentication (AEAD)
Dimensions: 50 x 92 x 28 mm (without antenna), 85 x 230 x 28 mm (with vertical antenna set)
Antenna length: 197 mm