Product description: BleBox wLightBox Pro - RGBW WiFi LED driver - Android / iOS application.
A small WiFi modulewithan additional long-range antenna, allows you to control a12 V or24VRGBW LED strip with amaximumcurrentconsumptionof 12 A, four single-colour strips or two two two-colour strips. The whole device is enclosed in a tight,waterproof housing. The device connects to the home WiFi network, the control is carried out using the application for mobile devices.The device has screw connectorsfor mountingcables.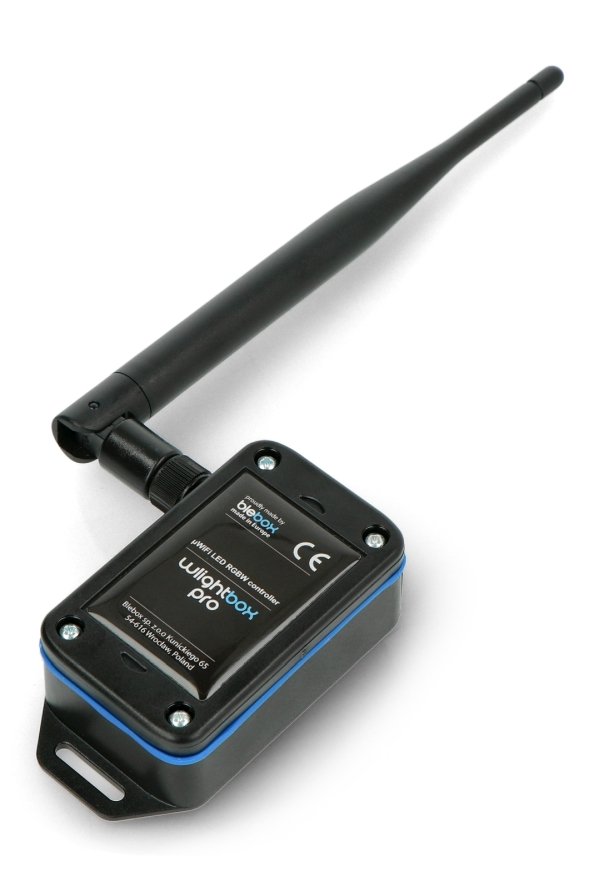 BelBox wLightBox Pro - RGBW LED lighting controller.The device has screwconnectorsfor mounting cables.
Wiring diagram
Before connection, disconnect the voltage in the supplied circuit. The controller has been enclosed in a sealed housing so that it can be mounted in a place exposed to adverse weather conditions.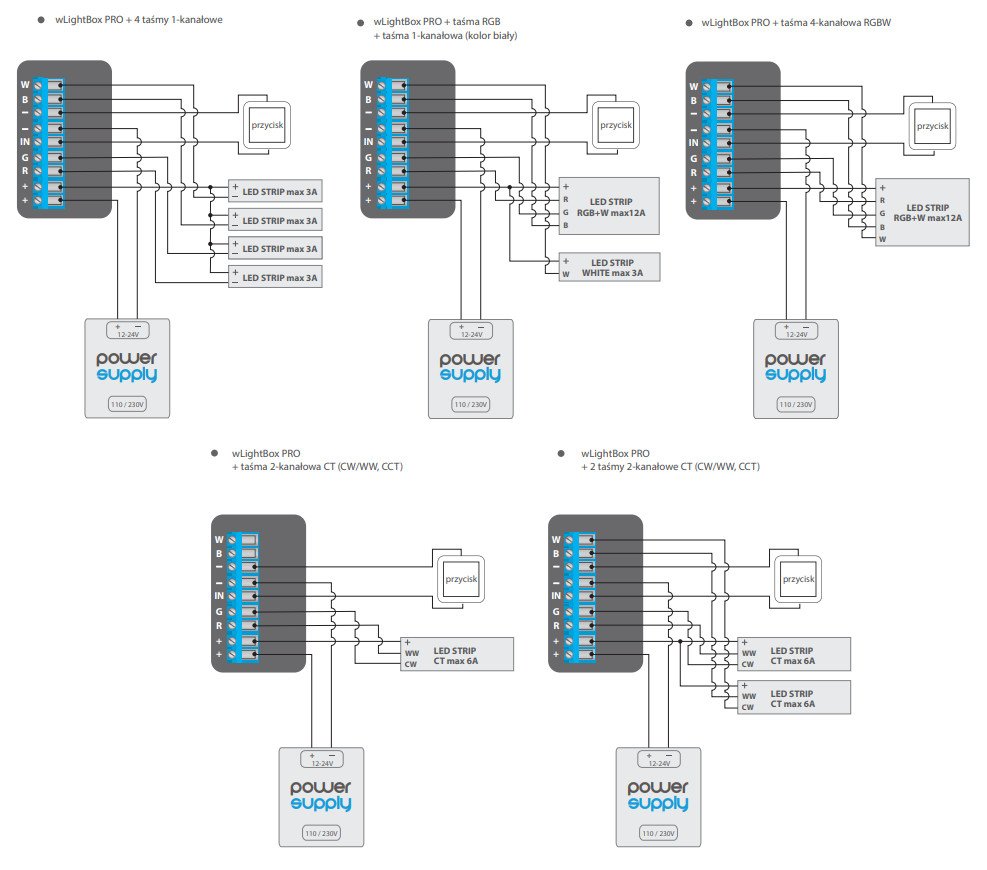 Wiring diagram.
The controller is equipped with nine screw terminals which can be easily connected with a screwdriver.
W- white channel (WHITE).
R- red channel (RED).
- - system ground.
IN- input for connecting the switch.
G- green channel (GREEN).
B- blue channel (BLUE).
+- supply voltage, shared with LED bar.
Controller configuration
To configure the wLightBox Pro driver, connect to the driver's WiFi network and then download the wBox application fromthe Play orApp Store. After starting the application a new device should appear, next to the name there will be a "+" sign. To pre-configure the device, click on the default device name.
BleBox wLightBox Pro driver specification
Power supply voltage: 12 V or 24 V
Energy consumption: up to 1 W
Maximum current: 12 A (3 A per channel)
Number of outputs: 4
Maximum load: 288 W
Output type: open-drain, PWM, ground control
Types of lighting: RGB / RGBW / RGB or W / 4x MONO / CT / 2x CT
Buttons supported: monostable (bell) without backlighting
Degree of protection: IP54
Casing: plastic, flooded with polyurethane composition, contains no self-extinguishing halogens
Mounting method: two mounting holes 18 x 3.5 mm or self-adhesive tape
Protection: Reverse polarity, ESD
Transmission standard: bidirectional, encrypted
Communication type: µWiFi

, WiFi compatible, 802.11g

Frequency of transmission: 2.4 GHz
API: open
Encryption: WPA2-PSK and authenticated encryption (AEAD)
Dimensions: 50 x 92 x 28 mm (without antenna), 50 x 230 x 28 (with antenna vertically placed)
Antenna length: 197 mm