Description
Dust sensor allows you to monitor the purity of the air. It is equipped with the Sharp GP2Y1010AU0F sensor, it allows to detect particles with diameter of more than 0.8 µm, for example, cigarette smoke. The system is powered by a voltage from 2.5 V to 5.5 V, it works in a range of up to 500 µg/m3 with a sensitivity of 0.5 V / (100µg/m3).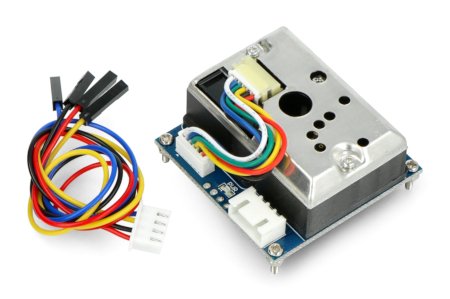 The kit includes wires with female connectors to facilitate connection of the sensor.
Connection
The sensor has four leads, their description is in a table.
Pin
Description
VCC
Supply voltage: from 2.5 V to 5.0 V
GND
The ground of the system.
AOUT
Analog output: 0.5 V / (100 µg/m3).
ILED
Configuration pin, before reading the measurement the high status

should be indicated 

to activate the sensor.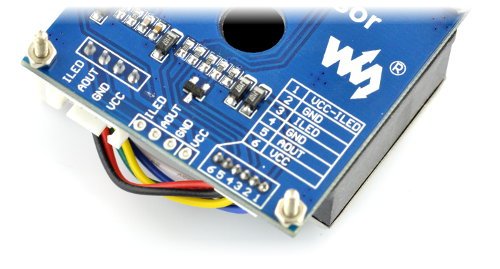 The system can be connected with any microcontroller with the A/C converter, for example,in Arduino AVRem.
Specification
Supply voltage: 2.5 V to 5.5 V
Current consumption: 20 mA
Sensor: Sharp GP2Y1010AU0F (documentation)
Measuring range: 500 µg/m3
Sensitivity: 0.5 V / (100 µg/m3)
Service life: 5 years
Operating temperature: -10 °C to 65 °C
The diameter of air inlet: 9 mm
Diameter of mounting holes: 2 mm
Board sizes: 63,2 x 51,3 x 21.1 mm