Description
Adjustable motion PIR sensor with an interface compatible with the Grove series. It's a simple to use passive infrared sensor. Object detection is indicated digitally - via high status on a SIG pin. The range can be set within the distance from 0.1 to 3 m and the response time of up to 130 s. The sensor is compatible withArduino,Raspberry Pi, BeagleBone Forward,LinkIt ONEandmost of other microcomputers/controllers.The kit also includes the Grove cable.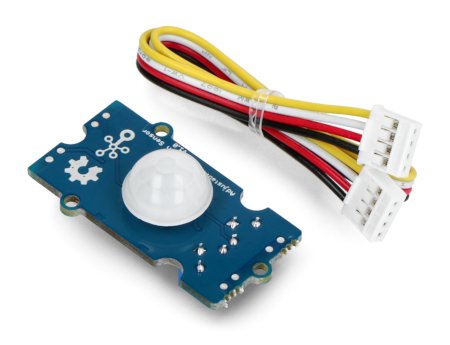 Features
Built-in filter, high resistance to RFI.
Time of output, adjustable distance range of detection.
Low voltage, low power consumption.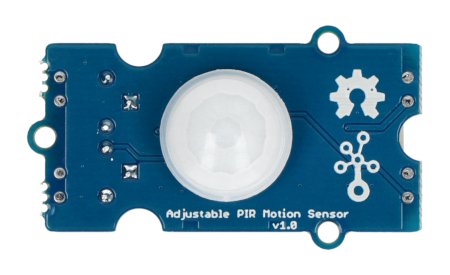 Application
The PIR motion detection
Intruder detection
Presence detection
Motion sensor
Security system
Automatic control etc.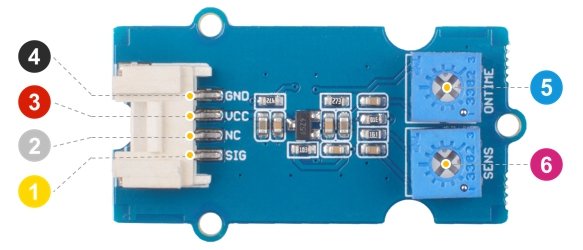 | Pin | Description |
| --- | --- |
| 1. | Signal. |
| 2. | No Connected |
| 3. | Supply voltage: from 3.3 V to 5 V. |
| 4. | The ground of the system. |
| 5. | ONTIME: duration of the high status after the detection of the object |
| 6. | Sens: the sensitivity of the sensor (distance, at which it detects the movement of an object) |
Technical specification
Attribute
The value

Working voltage

3.3 V / 5 V

Operating temperature

-30~70℃

The angle of view

The horizontal placement: 80 °
The vertical 

placement:

55 °

Detecting the spectral reaction (λ)

5nm ~ 14nm

Detection distance

0 ~ 3m

Time at a high level

<130s

Time stability

30 seconds after turning on the power

Interface

I2C

Interface type

Digital