Product description:relay Module 8 channels with optical isolation - contacts 10A/250VAC coil 12V
The module allows to control the actuators consuming the current up to 10 A with a voltage of 12 V. Optoinsulation separates the control signal from the part associated with the power of the relay, thereby providing work safety of the management system.
Connection
For proper operation, it is sufficient to connect the power to the relay coil and the digital control signal. Pins are the standard goldpinstrap with the pitch of 2.54 mm which provides the connection using the connecting cables.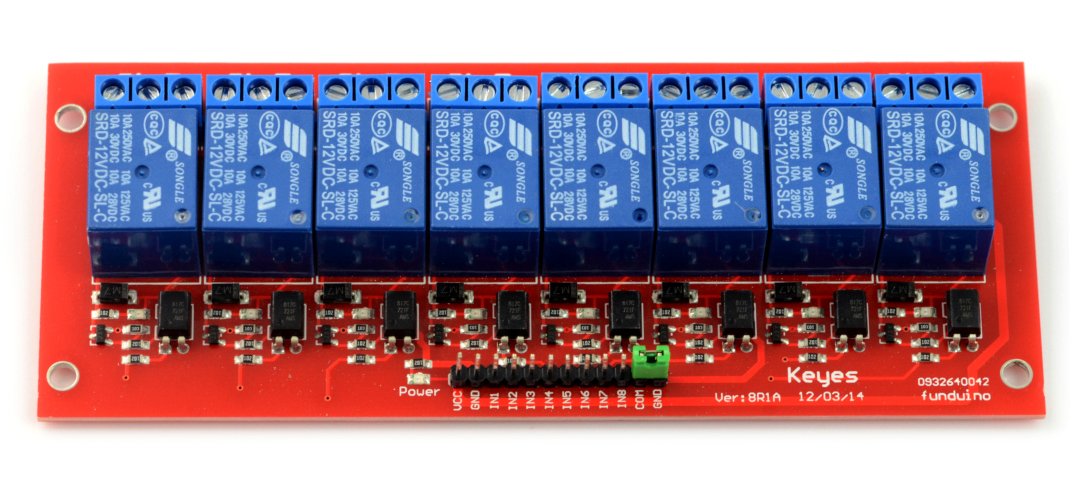 The relay has the following pins
VCC- power of the optoisolator
GND- ground system
IN1 ... IN8 - control inputs of the relay, activated with the high status
Jumper COM GND - connect the system grounds with the ground of the optocouplers
Connectors KF (ARK)- the relay contacts are connected in accordance with the pattern on PCB of the module.
Examples of application
Driver of lighting
The driver of actuators
Switch for electric devices, including motors
Technical characteristics of the relay module
Supply voltage VCC: 12 V
Activated with the high status: 12 V
Relay SRD-12VDC-SL-C (documentation)

Coil voltage: 12 V
The maximum voltage of contacts: 250 V AC, 110 V DC*
Maximum current: 10 A

Optelectronic insulation
9 LEDs

8 - signaling the relay activation
1 - signaling the power supply connection

Board sizes: 139 x 55 mm
Weight: 118 g
Diameter of mounting holes: 3 mm
* Maximum contact voltage depends on the type of load - details inthe documentation, tab. 7. Contact Rating.