Description: AVR MKII v3 programmer compatible with AVRISP-MKII ISP + IDC tape
Programmer AVR MKII is fully compatible with the system AVRISP-MKII. It can be used to program MCUs from AVR family: ATtiny, ATmega and ATxmega. The module has three connectors with popular programming interfaces: ISP, PDI, TPI.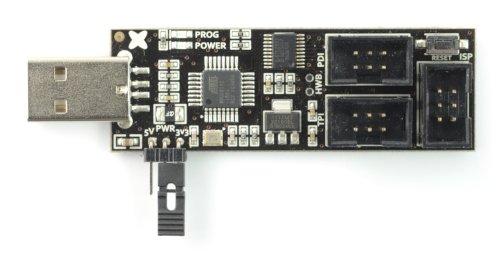 Power
Programmer AVR MKII enables the power of the programmed system directly from the USB port of the computer, to which it is connected. There is a possibility of powering the board with a voltage of 5 V or 3.3 V. The choice of programmed system's power, is made via jumper which is included in the kit. The maximum current that can be delivered to the powered system depends on the current delivery of the USB port and it is about 500mA.
Attention!
In the case, when the programmed system is powered from an external source, remember to remove the power jumper from the programmer. Leaving the jumper, can potentially damage the programmed chip, programmer, or USB port of computer!
Included
6 pin Ribbon IDC with length of 30 cm, with the ends fitted for connectors of KANDA 6pin type
Jumper for setting the programmer
Supported microcontrollers
Device can program all microcontrollers that have one of three interfaces: ISP, PDI or TPI. Below is the list of examples of diagrams AVR-compatible with programmer MKII:
ATmega8, ATmega8A, ATmega328, ATmega328P, ATmega88, ATmega88A, ATmega128, ATmega16
ATtiny12, ATtiny13, ATtiny13A, ATtiny15, ATtiny48, ATtiny84, ATtiny85
ATxmega128A3U, ATxmega128A, ATxmega128A1D, ATxmega128A1, ATxmega128D, ATxmega256A
Key features
It supports mostmicrocontrollers from ATmel, including, i.a. all from the families: ATtiny, ATmega, ATxmega.
It is equipped with three programming interfaces: ISP, PDI and TPI.
The user has the possibility to power the programmed system directly from the USB port – the choice is made via jumper, from voltage supply of 5V, or a voltage supply of 3.3 V.
It is equipped with a hardware USB interface - it provides high-speed of programming.
It has two LEDs which provide information, respectively, about power connection and about the process of programming.